Fireman Rawl Barrow was deemed a hero yesterday afternoon after he drove a fire truck which was responding to a blaze into the canal at the corner of Albert and Lamaha streets to avoid a serious collision with a car.
The driver of the car sustained bruises and cuts to the left side of his face while the two other occupants of the car and the firemen escaped unhurt.
Reports are that around 4:30 pm yesterday the Central Fire Station in the city received a call that there was a fire along Woolford Avenue in the vicinity of the Guyana Industrial Training College (GITC).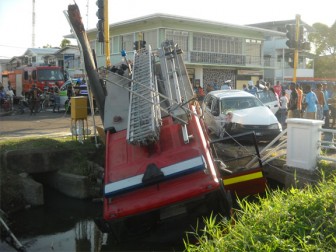 The fire truck, with siren blaring, raced to the scene and according to an eyewitness, as the vehicle was about to cross Lamaha Street heading north along Albert  Street,  it collided with a car, bearing registration number HB 5652 which was heading west along Lamaha Street at the time.
The right side of the car slammed into the left side of the fire truck which resulted in the latter crashing into a nearby electrical pole before finally coming to a rest in the nearby trench.
At the scene, the driver of the car argued in vain as members of the public upbraided him for not obeying the relevant traffic laws. The man was subsequently taken to the Georgetown Public Hospital (GPH) for treatment by the police.
Barrow noted that as he approached the usually busy junction, he applied his brakes and on seeing the car heading towards him, he drove into the direction of the trench to avoid "causing serious consequences to the occupants of the car".
The man was later praised by those at the scene for his actions while a senior fire official noted that motorists continue to disobey the traffic laws regarding fire trucks responding to fire emergencies on the public roads.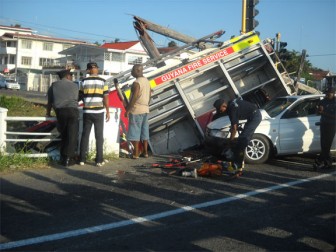 The incident resulted in traffic bottlenecks along surrounding streets leading to the junction while residents noted that the area had experienced power woes for most of the day yesterday and the incident further compounded the situation.
Two fire tenders subsequently arrived at the scene and extinguished the bush fire aback the GITC building which sparked the initial response by the GFS.
Around the Web