Ten persons according to Stabroek News' records were killed during the month of August, a slight decrease when compared to July. More than half of the killings occurred in the poorly manned E&F Division with knives being the weapon of choice in most of the cases.
There were six murders in E&F Division and one each in `C' (East Coast), `D' (West Demerara), `G' (Essequibo Coast), and `A' (Georgetown) Divisions.
Police have been able to lay charges in only a few of the cases while the others are still being investigated.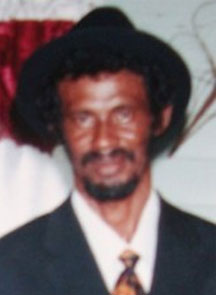 Kenny Creame was the first victim. Reports are that Creame, age 19 years was beaten to death at Monessee Backdam, North West District. Two men; Lowell Hope and Sherlund Joseph called 'Rudolph' have since been charged with the capital offence. According to the particulars of the charge they allegedly murdered Creame in the course and furtherance of a sexual offence, namely rape.
Almost a week later on August 15, miner and Kuru Kururu resident Emanuel Evans was shot dead and his nephew Ewart Escott wounded when a businessman opened fire at a shop in Five Star Backdam, North West District. Evans succumbed instantly while Escott was transferred to Georgetown for further medical attention. The shooter is still on the run.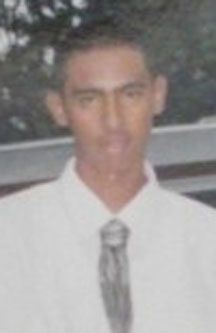 A father and son were brutally slain at their camp located at White Water Backdam, Konawaruk on August 17. Reports are that Daniel Higgins, a miner, was shot then buried alive by two men, who later hacked his son, Daniel Higgins jnr  to death. Police had questioned several witnesses who reported the incident to Linden police. According to Crime Chief Seelall Persaud police are looking for a number of persons in connection with the incident.
The pharmacy community was plunged into shock on August 18 when 84 year old Harold Rachpaul was discovered murdered in his living quarters located behind his Robb Street pharmacy. The perpetrator/s had bound, gagged and strangled the elderly man after removing valuables from a safe and tumbling the pharmacy. Police have identified a suspect who remains in hiding.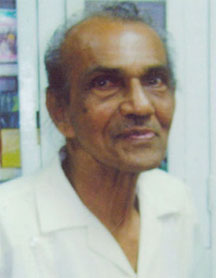 E&F Division recorded a fifth murder when on August 20, Rafael Khan, a 42 year old miner was found with multiple stab wounds to his body at Mowasie Backdam, Mahdia, Potaro. Relatives had told this newspaper that before breathing his last breath, Khan was able to call the killer's name. They were told that it was an ex-policeman who stabbed Khan with a pair of scissors during an altercation.
Donna Lakeram was the first woman to be killed. Between August 23-24 at Seamang Creek, Middle Mazaruni River, she was strangled. Lakeram's body was found in Seamang on August 24, and police reports stated that the deceased and the suspect identified as Bevonon Hyder Khan had been consuming alcohol when an argument ensued between them. Khan has since been charged with the capital offence.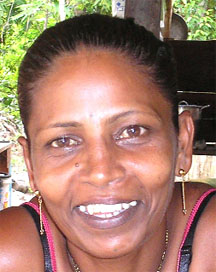 On August 23, another woman was killed; this time allegedly at the hands of her ex-husband during a drunken quarrel. Radika Ramjattan age 42 was allegedly stabbed once in the chest at her Tarla Dam, Meten-Meer-Zorg home. The man Andrew Khetwaroo, 30, has since been charged with the capital offence.
Then on August 25, Phillip Prince aka 'Strong Boy,' was stabbed to death at Capoey Mission, Essequibo Coast. Reports are that Prince and a man were consuming alcohol at a nearby shop when a heated argument erupted between them.
An eyewitness told this newspaper that the suspect ran into his house, with Prince chasing after him. It is alleged that the suspect picked up a kitchen knife and dealt Prince three stabs in his abdomen.
The suspect was held after public-spirited residents surrounded a house in the area and prevented him from leaving.
The murder of Phulmattie Rami rounded off the figure for August. The semi-nude body of the 68-year-old woman was found in a canal at Cane Grove on August 29.  Gold stud earrings had been ripped from her earlobes, while there were bruises on her back. A post-mortem examination revealed that she died from multiple injuries and according to Crime Chief her death is being investigated as a murder.
Around the Web