A 74-year-old pensioner was yesterday morning killed on the spot, after a route 41 minibus slammed into the scooter he was riding.
Dead is Julian Alleyne of 1155 Canje Pheasant Lane, South Ruimveldt Park.
Veronica Douglas, a nurse attached to the Georgetown Hospital was also injured during the accident. At the time she was on a bicycle heading east along Norton Street.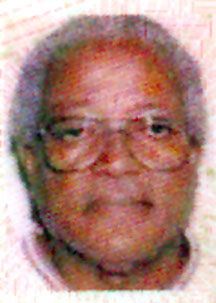 Police in a press release said it is alleged that the motorcyclist was proceeding along Victor Street and failed to stop on the approach to Norton Street and collided with minibus BNN 4990 which was proceeding along Norton Street.  The motorcycle CD 7799 then skid along the road and collided with the pedal cyclist.
Eyewitnesses stated that the Route 41 minibus was heading west on Norton Street and the deceased was heading north along Victor Street when he failed to stop at the intersection. Eyewitnesses said the bus was speeding and as such the driver was unable to avoid the collision. As a result of the impact, Alleyne was thrown into the air and into the nearby drain.
Alleyne was pronounced dead on arrival at the Georgetown Hospital, while Douglas was admitted a patient suffering from a fractured right leg.
This newspaper understands that just a month ago, the deceased's wife flew out of the country to have an eye operation. He also leaves to mourn three children, who are all overseas.
Meanwhile, the minibus driver is in police custody assisting with investigations.
Around the Web