Nations University introduced an MBA Programme which will be done in partnership with the Australian Institute of Business on Monday, when it also officially launched its new school complex.
Joel Abraham, Marketing Director of the Australian Institute of Business, said the MBA programme had been launched in Trinidad and Tobago, but Guyana was also targeted because "we believe in the people. We felt that there wasn't enough local options for students and that's what is contributing a lot to this brain drain they describe — Guyanese students leaving the country.  …We thought we could begin addressing these issues by offering the world class qualifications locally."
He said the Australian Institution of Business is a 25-year-old institution based in Adelaide, South Australia and is a fully accredited institution, which means the qualifications earned will be recognized locally, nationally and globally.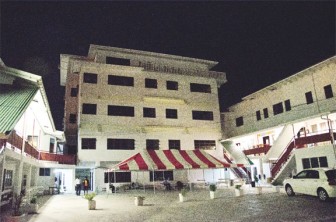 Also speaking at the event was Dominic O'Sullivan, Honorary Consul for Australia. "The MBA programme is accredited by the AQF, which is the Australian Qualification Framework and that is the major body of Australia that is charged with ensuring the quality of education," he explained, adding that it is directed by a board consisting of some of Australia's leading academics and is chaired by a former education minister, John Dawkins.
"This programme is not hocus pocus, it's a fully legit programme and it's absolutely fantastic to see the cooperation going on between Australia and Guyana," he added. Giving the feature address, President Bharrat Jagdeo expressed pleasure in knowing that Guyana is offering opportunities for persons to extend their studies and the fields in which they study.
He said Guyana may soon also export this sort of service to the rest of the world and that there are areas in which we have significant advantages to create and export.
"We need to branch off from the traditional sector and to create what we consider a new economy, an economy that is not reliant on the natural resources as important as they are to our well-being in Guyana and to the creation of wealth, but an economy that is cognizant of where the world is going and to ensure that our national interest and the sectors that will generate wealth in Guyana, that they will carefully align," he said.
He further stated that he had recently remarked that the greatest market capitalization in stock exchanges of the world are those of companies that exist almost in virtual reality, companies that produce ideas rather than goods and services.
"Today, Google and Yahoo and many other companies that provide these sorts of services, they are the companies with the greatest value in the world so recognizing that education could become a very important export for Guyana, it's incumbent upon policy makers and others, to prepare ourselves for that future," Jagdeo indicated.
He added that this would mean not only investment in education but also the availability of opportunities for private sector participation in education.
"Clearly, we are not going to be able to export every sort of education service but we've already singled out some areas where we have advantages…. It's hard to compete—maybe because at our wages level we may not be able to attract the top lecturers in economics in the world—but definitely in the area of biodiversity studies, we can become a global centre for studies in biodiversity and at a very high level. And we can also, through those engagements, probably attract… some of the largest companies in the world, particularly pharmaceutical companies, to do research right here in Guyana that will complement the teaching we do in these areas."
Jagdeo said major investments are already being seen at the University of Guyana where government has taken a loan of US$9 million for UG to start the biodiversity programme. He said another US$2 million will be drawn from the Low Carbon Development Strategy and US$9 million from private philanthropic sources to raise US$20 million to start the programme.
"I see a great future in the education services," Jagdeo concluded, adding "I wish to sincerely thank the O'Tooles' for the work they've done over many years in creating and demonstrating that there is a role for private education also in Guyana."
School of the Nations Director Dr Brian O'Toole also spoke at the launch.
The school complex, located at the New Market Street site that formerly housed the Woodbine Hotel, has been occupied by School of the Nations since 2009.
Around the Web