In the wake of fresh allegations stemming from WikiLeaks cables about links between government officials and drug lord Roger Khan, presidential candidate David Granger today called for an independent investigation of Health Minister Dr Leslie Ramsammy and former Home Affairs Ministers Ronald Gajraj and Gail Teixeira.
Granger, A Partnership for National Unity's (A.P.N.U) candidate, also called for a serious enquiry into the assassination of the then Agriculture Minister Satyadeow Sawh.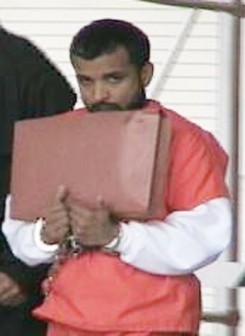 In a statement,  Granger referred to cables which were sent to the United States Department of State in Washington from its Embassy in Georgetown. Granger said that those reports indicated that "PPP/C Ministers were closely connected to known narco-traffickers.  They, in turn had links to members of the "Phantom Squad" which was responsible for several killings during the troubles in 2002-2008."
It noted that the most recently published cables suggested that Ramsammy may have had close links to the convicted criminal Khan. Ramsammy has strongly denied this. Granger said that Khan and his criminal network established a "strange relationship" with the State and set out to eliminate the Georgetown Prison escapees of the February 2002 jailbreak.
Granger also noted that members of Khan's gang were cited as possible suspects in the murder of Sawh, who also had responsibility for Forestry in April 2006. Two of Sawh's siblings and his guard were also murdered. "Mr. Sawh's intervention in the granting of a forestry concession to Khan was seen as a possible motive for his execution by Khan", Granger pointed out.
As published in today's Stabroek News, Granger noted that US Charge d'Affaires,  Karen Williams wrote to Washington suggesting that  Ramsammy had once been proposed by Khan a mediator between him and the US Government.
"Mr. Granger called for an investigation into the claim that Dr. Ramsammy signed an official 'Government of Guyana' letter authorising the purchase of electronic cellular intercept 'eavesdropping' equipment. Ms. Williams derided the Guyana Government's defence that it `could not have authorized the purchase because the equipment fell under strict US export controls.'  Ms. Williams in a cable entitled `Blaze at Ministry of Health is out, but new allegations keep fires burning', said that links between Khan – who she said was suspected of masterminding more than 200 murders in Guyana – and Dr. Ramsammy are 'strong'".
Granger said that, under an A.P.N.U administration, every effort would be made to fully investigate the misbehaviour of PPP/C Ministers.  "Those who broke the law would be brought to justice", he declared.
Around the Web