President Bharrat Jagdeo on Thursday promised the release of $5M for the restoration of the century-old tower at the New Amsterdam Town Hall.
According to a Government Information Agency (GINA) press release, Jagdeo approved the sum at a meeting with president of the Berbice Chamber of Commerce and Industry Imran Saccoor, former President and Secretary Rohan Marray, member Ramesh Maraj and New Amsterdam Town Clerk Angelina Collins at State House. The meeting was convened to discuss the Chamber's vision for the ancient county and restoring the tower was listed among its priorities as it fears that the historic significance would be lost, given its current state if disrepair.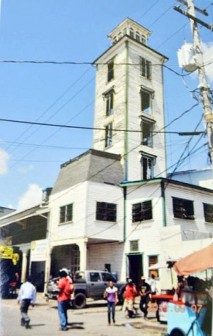 "We thought that as members of the private sector, working along with the town council we can come together and form relationships that we are able to restore this tower… we are very happy that today the President has approved a sum of $5M which will go towards the restoration of this project," Saccoor said. He also said restoring the tower will give the town a boost and lift the spirits of the people.
Restoring pride in New Amsterdam is also a priority for newly appointed Deputy Mayor Harold Dabydeen, who was sworn in on June 15, according to GINA. Dabydeen, it said, had pledged to focus on solid waste management, drainage and irrigation and a public educational campaign. The council has already acquired a bobcat and small excavator for drainage and cleaning up garbage and efforts are being made to increase the municipality's subvention and acquire more machinery to conduct its work programme, GINA added.
Around the Web