The US Embassy yesterday announced the arrival of new Ambassador to Guyana D. Brent Hardt.
Hardt, who was confirmed by the Senate in June and sworn in as Ambassador to Guyana on August, 19, 2011, arrived here on Thursday.
He previously served as US Embassy Chargé d'Affaires, a.i. in Barbados and the Eastern Caribbean from January 2009 to June 2011. Prior to his appointment, the US had not named an Ambassador to Guyana for more than two years.
Hardt arrives amidst a swirl of controversy created by the recent WikiLeaks release of diplomatic cables written by his predecessors, who chronicled the Bharrat Jagdeo administration's worsening ties with the west as well as serious concerns about corruption in government. Former Ambassador Roland Bullen eventually concluded that the administration was "compromised" by now convicted drug trafficker Roger Khan.
Cables authored by Hardt during his tenure in Barbados have also been released via WikiLeaks.
In a statement, the US Embassy described Hardt as a career Senior Foreign Service Officer with extensive service in the Western Hemisphere and Europe. He had also served as Deputy Chief of Mission and Chargé d'Affaires, a.i. at U.S. Embassy in Nassau, the Bahamas from 2005-2008 and at the U.S. Embassy to the Holy See in Rome from 2002 to 2005.
Hardt, the Embassy said, joined the United States Foreign Service in 1988, and served as a Consular Officer in Bridgetown, Barbados from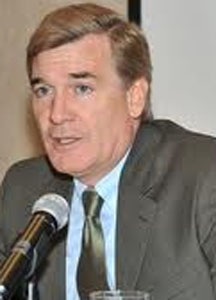 1988-89, Political Officer at the US Embassy in Berlin from 1990 to 1992, and Political-Military Officer at the US Embassy in The Hague from 1993-96, where he also served as an exchange diplomat in the Netherlands Ministry of Foreign Affairs. It added that from 1996 to 2000, he returned to the US Embassy in the Eastern Caribbean as Political-Economic Section Chief and Acting Deputy Chief of Mission. During this time, he helped develop the 1997 Caribbean-US Summit agenda and subsequently worked to implement Summit commitments with countries in the Eastern Caribbean.
From 2000 to 2002, Hardt also served as Team Leader for NATO Policy in the Office of European Political and Security Affairs in the Department of State, where he was responsible for NATO enlargement, European Security and Defense Policy issues, NATO-Russia, and NATO-Ukraine relations.
He has received various Department of State awards, including the Director General's Award for Reporting, five Superior Honor Awards, and two Meritorious Honor Awards. He earned a Bachelor's degree in History from Yale University, and Master's and Doctorate degrees from the Fletcher School of Law and Diplomacy at Tufts University.  He has published numerous articles on US foreign policy, and speaks Italian, Dutch, German and French.
The Ambassador is married, and he and his wife Saskia have three sons, the Embassy noted.
Around the Web