A Happy Acres rice farmer on Friday night succumbed to injuries, after the vehicle he was driving crashed into a utility pole and some concrete piles at Planters Hall, Mahaicony.
Dead is Deodat Singh, 44 of Lot 24 Happy Acres, East Coast Demerara. Police in a release said that the fatal accident occurred around 10.30 pm on the Planters Hall Public Road.
Investigations revealed that Singh was driving a Toyota Tundra GJJ 4811 allegedly at a fast rate, when he lost control of the vehicle, causing him to crash into the pole and concrete piles. Police said he received injuries and was taken to the Georgetown Public Hospital, where he was pronounced dead on arrival.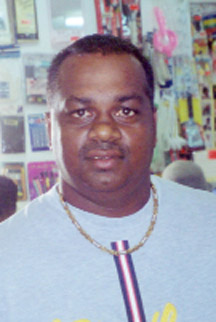 Speaking with Stabroek News yesterday, the man's wife Priya related that her husband was a rice farmer and had his fields at Abary Creek, Mahaicony, which was where he was returning from when the accident occurred. The woman stated that Singh had workers who do the farming up there, but he would on a regular basis travel up to oversee the work. "We would normally go with him but we just returned from overseas and me and the kids were tired so he went alone," she said.
Priya said her husband had also travelled overseas with them but he had returned earlier. She recalled that he left for Mahaicony on Tuesday morning around 7 am and was due to return on Friday afternoon. However, she related that he met up with some friends in the village and they "had a few drinks then he drive up". She also surmised that it could have been tiredness that contributed to the accident.
This newspaper understands that one of Singh's workers was travelling with him at the time of the accident, but he escaped uninjured. Priya related that following the accident, the worker, called "Rudy", hailed a passing minibus, which transported them first to Singh's home in Happy Acres ["to get someone to go with him to the hospital"], then to the hospital. Priya was also informed that her husband "walked to the bus". The dead man's wife related that he had already succumbed by the time the bus arrived at their home.
Priya was the only one who saw her husband before he left for Mahaicony on Tuesday, as their children; Romesh, 15; Roshanie, 14; Ramia, 12; and Devya, 10; were all asleep. With tears in her eyes, the woman recalled her husband's last words to her were "are you ok?" Ramia recently sat the Grade Six Assessment, where she successfully attained a position at St Joseph High School. All four of Singh's children are students of School of the Nations.
Singh also leaves to mourn his mother and three sisters.
Around the Web