The Guyana Defence Force (GDF) officer accused of the June 19 assault on female DJ Nerissa Pearson was yesterday admitted to bail in the sum of $20,000 when he appeared before acting Chief Magistrate Priya Sewnarine-Beharry.
Charges of assault and threatening behaviour were levelled against 19-year-old Denzil Mingo who resides at 393 Third Street, Alberttown.
The allegation against the lieutenant is that on June 19 at Cross and Leopold streets, Georgetown, he unlawfully assaulted Pearson, a former media worker.
On the same day also, the soldier is alleged to have used threatening behaviour to Donella Bruely thereby resulting in a breach of the peace.
The accused denied both charges when they were read to him by the magistrate.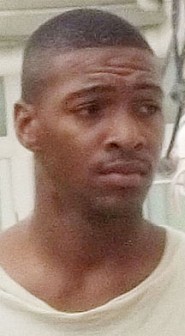 In presenting the facts of the case, Police Sergeant Lionel Harvey told the court that on the day in question around 03:00 hrs the complainants were standing on the street at a party when the accused drove up in his car.
Harvey said an argument ensued when Bruely hit the rear view mirror of the defendant's car.
During that time, the sergeant said, Pearson was assaulted by the accused.
The prosecution made an application for the accused to be remanded to prison, citing that additional charges are to be laid against him and if granted bail he may not return to stand trial.
Harvey alleged too that on his arrest on Friday, Mingo assaulted four police officers, spitting on one of the constables and cuffing another. The sergeant said that all the incidents stemmed from the June 19 charge.
Attorney-at-law Paul Fung-a-Fat who represented the accused was, however, successful in retaining his client's pre-trial liberty.
In his bail application, counsel said that the charges against his client arose out of provocation meted out to him. He said further that the particulars of the case will be ventilated at the trial.
The lawyer argued that his client has no antecedents, poses no risk of flight, has a fixed address, and has been cooperating with police investigations.
Fung-a-Fat contended too that his client's position in the GDF at the age of only 19 shows that he is "promising".
After listening to the submissions of both prosecution and defence, the magistrate granted the lawyer's request.
Mingo was then placed on bail in the sum of $10,000 for each charge.
His matter was transferred to Court Ten for September 15.
Around the Web