Hundreds of Guyanese joined the rest of their brothers and sisters across the region in observing Caribbean Wellness Day last Saturday when they gave themselves a check-up or got a massage at a health awareness fair.
Held at the Merriman's Mall, Bourda, the event was the fruit of collaboration among the Ministry of Health, Caribbean Community (Cari-com), Pan American Health Organization (PAHO) and Nestlé Caribbean.
After a 6 am walk from the Caricom Secretariat, Lilien-daal, to the Merriman's Mall, participants throughout the day seized the opportunity to have their blood Glucose, blood pressure and cholesterol levels checked on spot.
Many received counselling on maintaining a healthy lifestyle, checked their Body Mass Index, got a massage, were counselled on how to check their breasts for cancerous lumps or sampled rice meals, sandwiches, nutritious drinks and bars.
Collecting 25 hampers of Nestlé products was also a thrill for many who were taken through an almost hour-long physical exercise regimen including push-ups by local fitness guru Curtis McKenzie. McKenzie motivated the young, elderly and even the overweight to participate from the beginning with the aim at taking home a hamper worth $40,000.
Minster of Health Dr Leslie Ramsammy told Stabroek News that as part of Guyana's drive in bringing citizens aware to the ill effects of non communicable diseases (NCDs) the health fair was planned and executed.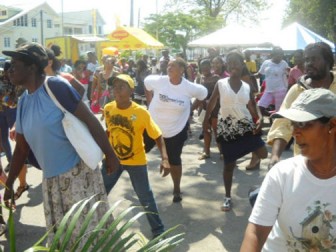 He said he was very pleased with the large turnout but looked forward to seeing more persons become more aware of their health statuses and as such making changes necessary to bringing this NCDs epidemic within manageable proportions.
"I am happy with the response of persons turning up. It demonstrates that persons do want to make positive health changes in their lives and I am pleased… It shows that they are making the adjustment and keeping conscious of their health," said Minister Ramsammy.
He praised Guyana's efforts in pushing the regional pro-health agenda throughout the month of September. "I am also glad that Guyana in particular is taking a leading role. As such we are not just celebrating Caribbean Well-ness Day but have a month of activities since we designated the month of September as Caribbean Wellness Month here in Guyana."
Highlighting the need for non-communicable diseases like hypertension, heart disease and diabetes to be addressed urgently by under-developed countries, he noted that they impact heavily on economies because more cash has to be spent on health-welfare.
Several activities similar to the weekend's fitness walk and health fair are being planned by the Health Minis-try in other administrative regions.
Head of the Chronic Diseases Clinic Dr Marcia Paltoo said the event was "a coming together forum to fight non communicable diseases."  She added that it was aimed at empowering the public to take up the fight against NCDs.
Nestlé Caribbean helped in financing of the event with the donation of over US$20,000. Mark Clarke Caribbean Events Sampling and Sponsorship Manager of Nestlé, in a brief interview, said "Basically the 'High 5' campaign is Nestlé's corporate campaign aimed towards consumers living a healthy lifestyle. We developed these five steps and try to guide consumers… as they aim towards living a healthy life."
The five steps are eating healthy, controlling portions, being active, checking one's health, and being happy.  He added "Nestlé World positions itself as the number one health and wellness company, so it is only just that we develop a campaign like this one to speak to consumers and encourage them as they strive to achieve this goal… We will always have strategic alliances with ministries of health in countries just to ensure when we come into a country we align ourselves with the health goals of that country."
The Trinidadian manager noted that Guyana has an advantage as there is a variety of fruits and vegetables here not accessed anywhere else in the Caribbean. He encouraged Guyanese to take advantage of this and incorporate as much fruits and vegetables as part of their daily food intake.
Participants expressed appreciation at the hosting of such an event. A 27-year-old man said he learnt at the health fair that he was in a high risk group of males in developing testicular cancer. He added that some time during this week he will make it his duty to visit the hospital to be tested.
Another woman said that it was only on testing her blood pressure at the health fair that she confirmed that she is hypertensive. "I now learn that the pressure up, you know. I always suspect because the back of my neck is always hurt and sometimes I feel dizzy but I never used to take it for nothing. I could have fall down here and not know anything… I am glad I will take it light now and get a check up," she said.
Many persons were also seen sampling the many snacks, shakes and meals on display. Persons serving distributed recipes and Nestlé representatives shared product samples such as Maggie's bouillon cubes and all purpose seasoning, Milo, coffee and cereals among others.
Following the heads of governments meeting, in Port of Pain in September 2007, the initiative was formed to have a day in September be designated Caribbean Wellness Day. The fair was help in keeping with that initiative while sensitizing the public to the number one global killer non communicable diseases.
Around the Web