Starr Computers donated a quantity of computer equipment to the New Amsterdam Technical Institute for Information Technology training.
In a press release Starr said last year it donated a quantity of computer parts and accessories to the Government Technical Institute and the Linden Technical Institute.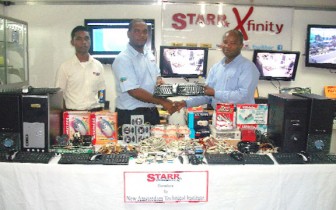 Starr has one of the largest solar installations in Guyana and over the years it has worked with educational institutions to provide field trips and demonstrations on renewable energy. These sessions have covered topics such as Global Warming and its impact on Guyana, the Low Carbon Development Strategy, Alternative Energy Solutions, Solar Installation Model, Demonstration of Solar and Wind Installation, Green PC – a low wattage computer designed specifically for schools and cafes. Institutions desirous of attending the seminars can contact Sales Manager Penny Francis.
Around the Web