The government and Chinese firm Haier Electrical Appliances Ltd yesterday signed a US$7.5 million contract for the supply of 27,000 netbooks for the much-vaunted One Laptop Per Family (OLPF) Project, even as the Chinese government is looking to provide an additional 21,000 computers by year end.
The contract was signed yesterday at Office of the President (OP) by Permanent Secretary in OP, Dr Nanda Gopaul, and Haier's General Manager of the Overseas Project Division, Sun Yongle. Labour Minister, Manzoor Nadir, who has Cabinet responsibility for the OLPF, said the netbooks will be in Guyana in October, with distribution to start before the last week of the month. The additional 21,000 computers, expected before year end, are to be purchased with a grant that the Guyana government received from the Chinese. President Bharrat Jagdeo disclosed yesterday that this project has already gone out to tender.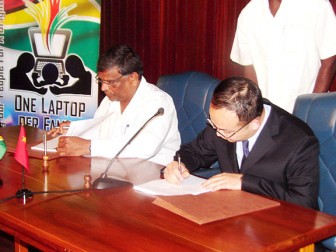 Delivering brief remarks at the signing ceremony, Jagdeo described the project as transformative, saying that it will lead to a quantum leap in the quality of services locally. Emphasizing the importance of the project, Jagdeo said "this signing is not just about a road that we all share some time or some school building or a hospital building, this is the signing of a contract that will see government transferring directly to individual families some of its resources… to improve their lives…."
The President expressed pleasure that a company with the international reputation of Haier had won the second tender. Haier, Jagdeo said, has offered a guarantee on the netbooks, which it has even extended beyond 12 months to 18 months. Yongle announced that Haier will be setting up support services in Guyana for the project and possibly an assembly plant.
Meanwhile, Yongle also explained that the decision was taken to fly in the laptops instead of shipping them, since this is the better method of transporting electronics. According to him, the cost difference between shipping and air freight is minimal.
The OLPF was initially launched in January, when 142 computers were ceremonially handed over to students from four entities. It was later disclosed that the computers were bought with a controversial US$50,000 gift from Chinese company Huawei, after it had won a US$14 million contract to lay fibre optic cables here.
Under the project, the government hopes to distribute 90,000 computers to poor families over the next two years. According to the Project Unit, once families receive their computers, they will benefit from continuous technical support and learning guidance and will have the opportunity to enhance their learning by progressing from basic to intermediary and advanced levels, through their ICT Hubs.
The computers will be equipped with a range of learning tools, anti-theft security features and internet ready portals. The care and safe keeping of the computers are to be the responsibility of the recipients.
It was reported earlier that several entities, including community-based organizations, youth groups, learning institutions and schools, religious entities and sector bodies from all regions in the country, had applied to become OLPF community hubs. The hubs "will be required to provide a conducive learning environment and their own facilitators who will be accredited by the OLPF Project Unit; or accommodate OLPF accredited training volunteers, for the provision of technical support to the process, while facilitating and monitoring the technical and social learning progress of participating families."
Around the Web