Five months after their homes were destroyed, victims of the Easter Monday Kingston fire are still at the site awaiting word from the Ministry of Housing for land allocation.
Stabroek News visited some of the victims, the majority of whom have taken up residence in wooden shelters they have constructed. Prior to the two fires, both the Kingston building and those at Lombard Street were slated for demolition by the City Council, due to their derelict condition.
For Brinetta Wilson, at 50 the oldest resident, "you can't quarrel and cuss" as it will take you nowhere. When asked how she was coping since the fire, she responded that she was "taking it quiet." She has lived at the site for more than twenty years.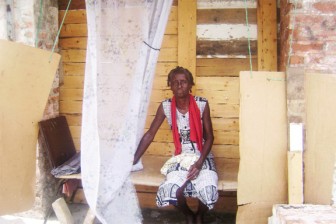 Unlike the others, she dwells outside the huts by choice, since, according to her, it is too hot indoors and "the heat drives a pain to my head." Wilson lost all her documents in the fire, including her National Insurance Scheme (NIS) vouchers. She said she visited the NIS offices several times, but they are yet to locate her records in the system. The former Guyana Stores Limited employee has one daughter, an immigration officer residing in Kitty who had invited her mother to stay with her. However, Brinetta said she only spent one night there, as the heat was unbearable. She says she receives food from the women living in the same yard as her. "I don't mind staying here the rest of my life [and] I will bare my chafe until better comes up," she said.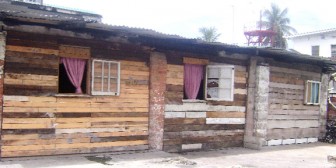 Lisa Joseph, 21, and Adrian Biggs, 30, both agree that the important thing for them right now is getting a plot of land allotted to them by the Ministry of Housing. Joseph, a security guard and mother of two, has been living at the location for close to 11 years. She is trying to cope with the circumstances she now finds herself in and she is hoping for the best. Biggs, on the other hand, said he was just living one day at a time. He works in the interior and he said he will stay where at the Kingston site until he gets the land. Both have applied but are yet to receive a positive response from the ministry.
At least 55 people lost their homes in the fire.
Lombard Street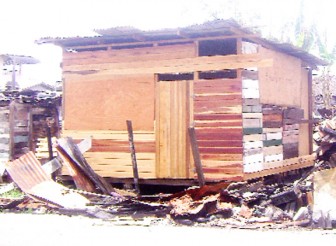 Meanwhile, on August 17, 36 persons were left without homes after an early morning fire razed two of the dilapidated buildings they were occupying. Like the Kingston victims, most of the occupants of the now demolished structures have opted to remain on site until they acquire land from the Housing Ministry. They too have erected shacks as temporary housing.
According to Tinasa Daniels, 20, things are bad, though the living arrangements are much better than before, despite the fact that she now lives with her mother, four siblings, and her daughter. She said the Guyana Relief Council (GRC) had donated a mattress, food and clothing but "nothing that can wear." The GRC had also offered her and the other victims temporary shelter, but they all refused.
Since the fire, Daniels' children have been out of school since they have no clothing. She has also applied at the Ministry of Housing for land and she said that she intends to keep visiting them until she acquires land. Her aim for the future, like the Kingston victims, is to "get a land and build a house." She is currently unemployed, and garners support from her mother who works.
Raymond Austin, 41, and Asquith Smith, 28, both lost everything they owned in the fire and they are now lodged at a friend's and a cousin's house, situated in the same yard. While Austin is a contractor, Smith does not have a permanent job. Both of them have applied for land at the Ministry. Austin related that he is "not facing any difficulties" as a result of the fire, while Smith's children were temporarily out of school but have returned this week.
Shonette George's plan is to leave, as she does not want her two children to grow up in the environment. Since the fire, George, 22, has moved to another location in the yard that became vacant after someone moved. Her pregnant twin sister, meanwhile, is staying at a friend's house elsewhere.
When asked how she was dealing with the fire and its aftermath, she responded that she was "coping good so far…can't be stressing on one thing all the time."  She too has applied for a plot of land, which she is yet to receive word on. The unemployed young woman, who has been on her own for six years, garners support from the father of her children.
Around the Web