Minister of Home Affairs, Clement Rohee, was honoured on Wednesday evening by members of the National Community Policing Secretariat for his "fifth year of excellent ministerial duty", a GINA press release said.
The minister was saluted by the Community Policing Groups (CPGs) during a parade which started at the Square of the Revolution and proceeded to the Ministry of Home Affairs.
"I am very proud to have served as Minister of Home Affairs and to have served community policing…. We in the government have always maintained that community policing is part of government's crime fighting strategy and as I worked with community policing I developed a better understanding of the difficulties of being a volunteer, to give selflessly one's time, efforts and sacrifices," Rohee stated.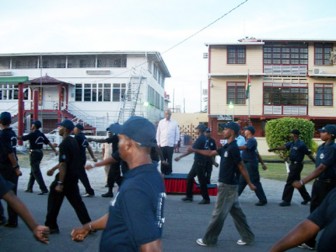 The press release said the government has significantly invested to have CPGs established nationwide over the past five years and Rohee considered it to be a remarkable initiative. He encouraged serving members to continue executing their appointed functions and duties in a respectable manner which community members will look up to.
Chairman of the National Community Policing, Godfrey Washington, said he has observed the level of courtesy from the staff of the ministry and also the time, energy and resources put in by the CPG members. Assistant Commissioner of Police, Leroy Brummell, who represented ther commissioner, commended Rohee.
"I know you are very dedicated, very hard working, work very hard to what you want and for that I congratulate you," Brummell said.
The assistant commissioner was proud to announce that he has discovered that other Caribbean countries are now introducing community policing as well. "In Guyana we are far ahead, with our police force already receiving assistance from community policing groups," Brummell said.
Rohee was presented with a plaque for his five years of committed service to the community policing fraternity.
Rohee thanked the organizers of the event, the Commissioner of Police, CPG members, the staff of the ministry and those who participated in the programme and made cultural presentations such as the students of Agricola Skills Training Programme.
Around the Web