Banks DIH and the General Workers Union (GWU) yesterday signed a three-year wage and salary agreement that would see their lowest paid workers earning more than some teachers.
Banks DIH's Chairman Clifford Reis and GWU President Norris Witter inked the agreement at the company's Thirst Park headquarters, concluding three weeks of negotiations.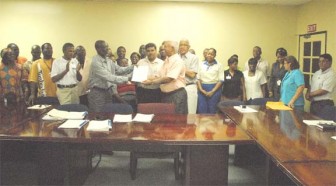 "It's simple but significant since through a bilateral effort with the Ministry of Labour only viewing from the sidelines, the negotiations were very good," Witter told reporters at the signing ceremony.
The accord provides for seven per cent in the first year, four per cent in the second and three per cent in the third year for salaried employees. Also enshrined is an 11 to 21 per cent wage increase across the board that is expected to cost the company $190 million in the first year.
While giving no specific dollar value of the wage increases, the trade unionist explained that Banks DIH's lowest paid non-factory worker will now get five per cent more than what a teacher on the low end of the scale earns and the factory worker 42 per cent more.
Negotiators shied away from an across-the-board wage increase because of the nature of the company's work and so they opted for remuneration based on specific skills and allowances for staff working from 6 am.
Other benefits in the October 1, 2011 to September 30, 2014 agreement include travel and health. Consideration has been also given to Occupational Safety and Health, HIV/AIDS in the Workplace and discipline.
The Banks DIH Chairman explained that this new three-year agreement was crafted, taking into consideration gaps in the last agreement.  Reis stressed that human resources are vital to the company and the union boss said there would be no retrenchment. "Both of the parties brought to the table the concerns of their constituents," he said of what he regarded as healthy and respectful talks.
The wage increases considered Guyana's economic growth and the cost of a basket of goods and services.
Also witnessing the signing of the new wages agreement were Chief Labour Officer Yoganand Persaud, Banks DIH Limited Human Resources Director Andrew Carto, Banks DIH Limited's Personnel Director Techla Gonsalves, Secretary of the General Workers Union Pansham Singh and Banks DIH Limited Assistant General Manager George McDonald.
Around the Web