Minister of Housing and Water Irfaan Ali said the ministry will publish lists of house lot recipients for scrutiny after it found persons fraudulently trying to acquire more than one lot.
Ali made this statement at the ninth successful 'One Stop Shop' on Friday at the Lusignan Community Centre Ground where  248 house lot applications for low income earners were processed in Mon Repos and Good Hope, East Coast Demerara.
"Our programme is based on equity, it is based on quality, it is based on transparency and accountability and that is why we have taken this approach of publicly having the allocation done and there are a number of reasons why this approach is critical," he said. According to a Government Information Agency (GINA) press release a list with the names of persons who have been given house lots will be published on the notice board of the Neighbourhood Democratic Council for scrutiny.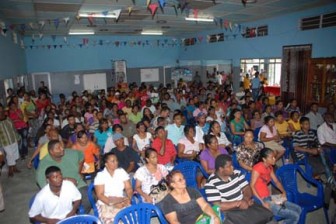 "If any person is found to have misrepresented information to the CH&PA, there is a new clause in the agreement of sale that speaks directly to the misrepresentation of information," Ali said.
He also cautioned persons in the new housing schemes against mixing cement on the newly built roadways saying government "would not continue to allow this blatant disrespect and disregard for the investment and infrastructure that has been put in place."
The agreement of sale gives persons 24 hours to remove any material that they would have been dumped onto the road shoulders. Failure to do so will result in a very high fine, which Ali explained, "is not there for us to make money. The fine is there for us to change the culture, to ensure that persons adhere to this rule. It is the right thing to do."
The minister said government has invested $114 million in these two schemes and it will collect $25 million at the end of six months. "That means that $89 million has been subsidized by the government. More than 345%…," he added.
According to Ali, every single low income household, on receipt of their house lot benefits from a subsidy of $359,000 from the government and, over the years, on the East Coast alone, government has invested more than $16 billion on housing and road development. "Right now we have the miscellaneous roads and the community roads development project that alone is almost $1 billion," he said.
According to GINA, the ministry's Community Road Improvement Project is being implemented in 12 Neighbourhood Democratic Councils in regions three, four, five and six and over 200 roads are to be rehabilitated. Land Allocation Manager, Denise King-Tudor said the ministry aims to boost citizens' standard of living and as such "massive infrastructural development [is] taking place in our schemes."
She also noted that there has been an increase in the building of houses and in the last three years the ministry has established several housing schemes as it seeks to meet the demand for housing.
Around the Web