Guyana's Permanent Repre-sentative to the Organization of American States, Bayney R. Karran, yesterday assumed the Chair of the Permanent Council of the body in a ceremony held at OAS headquarters in Washington, DC.
Under OAS statutes the Chair is to be held successively by each of the Permanent Representatives, in alphabetical order as determined by each country's name in Spanish, and the Vice Chair in the same manner, following reverse alphabetical order. Both positions have a term of three months.
A statement from the OAS said that the Guyanese envoy affirmed that the OAS is ready to make "significant progress in a number of areas" such as strengthening "democracy, social rights and the human rights system. The OAS is the locomotive of hemisphere wide integration and it is up to us, the Member States, to ensure that it is on the right track and in motion towards those objectives".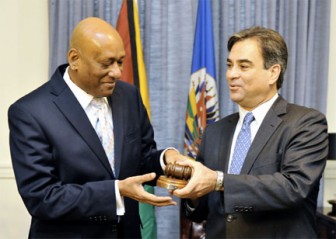 Karran also declared that it is "a great honour and pride" for his country to assume the Chair of the Council and assured that the General Secretariat "will have my unconditional support." He called for OAS Member States to jointly confront this "period that is not without its challenges and difficulties", though saying he is "confident that we can make good progress."
The outgoing Chair and Permanent Representative of Guatemala, Ambassador Jorge Skinner-Klee, applauded the support he received during the time of his tenure and expressed his readiness to work with the new Chair.
The release said that the ceremony was attended by the OAS Secretary General, José Miguel Insulza, the OAS Assistant Secretary General, Albert Ramdin, and the Permanent Representatives of Barbados, Belize, Canada, Haiti, Mexico, Panama, Peru, Saint Kitts and Nevis and Venezuela.
Around the Web