John Blanchard, who has been charged with hacking two of his children to death, was early this morning rushed to the Accident and Emergency Unit of the Georgetown Public Hospital (GPH), after suffering injuries while in the Camp Street Prison.
Reports are that some time between 8 and 9 this morning, Blanchard was taken to the GPH in an unconscious state following a beating from inmates in the prison. This could not be immediately confirmed with prison authorities. He was treated and returned to the Camp Street Prison later this morning where he is on remand over the murders.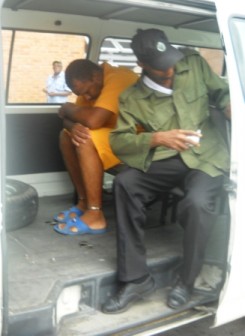 Earlier this morning, Blanchard's other child, Joy Blanchard, succumbed while in the Intensive Care Unit, where she had been since suffering injuries in the attack on Tuesday. He is expected to be charged with her murder.
Prisoners in cases like these are usually kept in solitary confinement or under close supervision because of the likelihood that they would be targeted or attacked by other inmates.
Around the Web