PPP/C presidential candidate Donald Ramotar last night announced that Samuel Archibald Hinds has agreed to return as the prime ministerial candidate  for the PPP/C at the November 28 2011 general and regional elections.
"He has the energy, he has the desire and he has the will to continue to serve our country", said Ramotar of the Linden-born Hinds who spent many years there in the bauxite industry.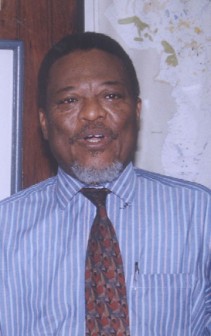 The announcement was made at the party's rally in Linden before a crowd estimated to be in excess of one thousand persons.
Though hoarse, Ramotar said that Region 10 would be central in the PPP/C's plan for development and this would include a strategy for a further reduction of electricity charges in Linden. Additionally the PPP/C will continue to focus its energies on economic activities specific to mining, agriculture and information technology to improve Guyana.
The rally held on Burnham Drive in the vicinity of Silvertown brought together residents from across the country and was also attended by President Bharrat Jagdeo, Minister of Foreign Affairs Carolyn Rodrigues, Minister of Transport Robeson Benn, who was the chairperson for the event, and PM Hinds among others.
Jagdeo continued his attacks on the media with special emphasis on Stabroek News, Kaieteur News, Demerara Waves and Prime News.
"I give them a cussing last week and I ain't cuss all of them. I cuss some of the vultures. Deh vex I called them carrion crows whole week, whole week they writing up about me". He further said, "Don't bother with (CN) Sharma we'll deal with him but keep your children far from him." He continued the attack calling some media practitioners mediocre journalists who are not objective but are the worst elements in society and spread racism.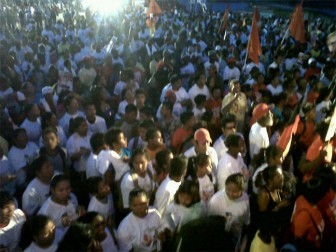 He said that media operatives said that he was wrong to cuss them the way he did and were upset that plans were afoot to report the media to the United Nations. "Actually we said that we'll write the UN because some of them spread racism and we need to fight them if they spreading racism."
Jagdeo alleged that the media is working in favour of the APNU.
APNU/PNCR's Debra Backer and her husband Stephen also came in for criticisms from President Jagdeo over the collapse of Globe Trust having borrowed monies that were more than for three thousand depositors. "You know how many poor persons lost their money that this government is trying to help them get back their money?"
He spent much of his time rebutting issues that were raised at the APNU's rally on Saturday night. He said that it was an insult to the people of Linden for the alliance's presidential candidate David Granger not to show up to address its people.
Ramotar who had lost his voice and struggled to speak said that Jagdeo would not be able to complete the one laptop per family project before he relinquishes office, "but I promise you that I will complete that promise."
He urged the people to work together to make Guyana the real Eldorado  of South America.
Among the others who addressed the gathering were Maylene Stephens who reminded of the significant interventions in Guyana since the PPP/C entered office. Phillip Bynoe received a resounding welcome from the crowd and Benn introduced him as having received an outstretched arm from President Jagdeo. He said Bynoe, a former treason accused pardoned by Jagdeo, had come on board with the PPP/C after spending most of his years as a PNC activist.
Bynoe said that he was attacked extensively at the APNU Linden rally on Saturday. He added that he is convinced that the PPP/C government has provided a way out of poverty for the people of Guyana. "The PPP/C has provided a ladder out of the hole of poverty and it is time that Region Ten that is in that hole stretches their hand up and release that clenched fist so that the Government would stretch its hands and bring you out that hole up that ladder out of poverty." He said that the PPP/C will continue to campaign resolutely for every single vote.
Hinds
Ramotar's announcement means that Hinds, an engineer by profession, will be running in the number 2 spot on the PPP/C ticket for the fifth election in a row.
Political analysts see the naming of Hinds as a concession to the view that Ramotar, a relative unknown on the national stage, needed to have someone of the stature of Hinds on the campaign platform.
Earlier, sources say, the PPP/C had toyed with the prospect of a woman candidate or a figure who might draw support from the pivotal Amerindian community. A number of other names had been mooted including Carolyn Rodrigues, Jennifer Westford, Priya Manickchand, Robeson Benn, Robert Persaud and Ashni Singh.
Sources say the naming of Hinds also allows the PPP/C an opportunity to later insert one of its members in the no.2 position if the party won the elections and Hinds later resigned.
The earlier thinking had been that having served four terms as Prime Minister and a brief stint as President, Hinds had nothing new to bring to the PPP/C in its first general election without a Jagan. It was thought that Hinds would have been given a diplomatic post in one of the western countries.
Widely respected for his honesty and simplicity, critics of Hinds have said he has not been effective in several of the areas he has ministerial control of and deferred too much to President  Jagdeo. The President took control of several of the areas of Hinds' responsibility. Analysts will also likely question who eventually made the decision to retain Hinds: President Jagdeo, the PPP or Ramotar.
Just recently, Hinds signalled his interest in continuing in government.
Around the Web