Hundreds of people flocked the Lyken's Funeral Home yesterday morning to bid farewell to the three Soesdyke children who were viciously slaughtered last week.
The three siblings, nine-year-old Belica George, six-year-old Joy Blanchard, and three-year-old Daniel Blanchard were laid to rest at Soesdyke, East Bank Demerara, more than a week after that fateful night when they were hacked to death allegedly at the hands of their father John Blanchard as they slept.
The crowd built up as the funeral service progressed at the small chapel at the Lyken's Funeral Home and the police had to be called in to maintain order, as everyone tried to get a glimpse of the children.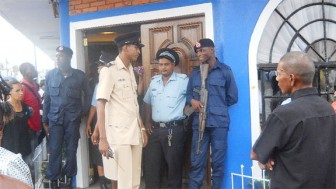 As soon as the doors of the chapel opened for the viewing of the bodies, the crowd poured in. Parlour officials were subsequently forced to close the doors, as well as the three caskets. Still, chaos reigned, as many who were already inside refused to leave and give those outside a chance at the viewing. Emotions ran high, especially among relatives who were left outside.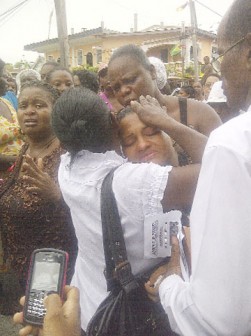 The children's mother, Onica Blanchard, was also prevented, for some time, from seeing her children, because of the huge crowd that had gathered in the parlour. Later, the 27-year-old mother of three fought hard to contain her grief, as she sat close to the coffins bearing the bodies of the fruits of her womb. She later collapsed outside the chapel and had to be revived with Limacol.
As the first service progressed, persons could be heard in and around the chapel making various comments about the children's deaths. Many who got a glimpse of Onica also speculated that the mother was strong to be sitting there so quietly. Others wondered why John Blanchard was not transported from the Camp Street Prisons to see the children for one last time.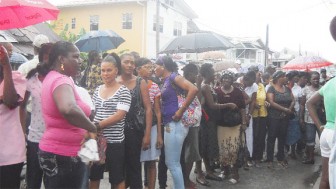 Blanchard is currently on remand for the murders of Belica and Daniel, who were the first to succumb to the wounds last Tuesday night. He is expected to be charged with the murder of his daughter Joy, who was the last of the three victims to succumb early Saturday morning. After having received a beating from his fellow inmates on Friday night, Blanchard was placed in the infirmary of the prisons.
Following the death of her children, Onica had given a detailed account of what transpired between her and Blanchard on the night of the incident. She told Stabroek News on Thursday last that she believed the murders to have been planned.
Around the Web