A miner is now dead in an alleged drowning incident, but his family feels that foul play was involved.
Dead is Frankie Lewis, 24, of 353 First Street, Mocha Arcadia. According to the man's wife Fayeann Lewis, her husband and a group of men went into Tiger Creek, Port Kaituma on October 13. Her husband stayed while the others subsequently returned home as a result of the treatment they received from the "boss man" Kwame Phillips.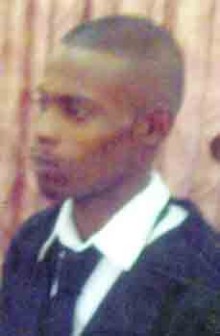 In tears, Fayeann recalled that she last spoke to her husband on the night of October 19, when he had told her to start looking for a place to rent and then give him a feedback. She said that the next day, the alleged day of his death he had called at around 6 in the morning and had spoken to her sister, "but by the time she could give me the phone it cut off".
Fayeann said she then purchased a phone card and called her husband but the phone went to voicemail twice. The woman explained that her husband did not have a phone and was using one that belonged to Phillips' sister-in-law.
She said that some time after 8 am, Phillips' reputed wife Pauline France called from the same phone and told her she had sad news. "She say Frankie just drown, and how she dint know he couldn't swim," the wife wept.
Both Fayann and her mother Carol Logan, along with the others who had left the camp believe that Lewis met with foul play, as, according to them, what they were told "don't add up".
Stabroek News spoke with France yesterday and she related that she "wasn't there, but the man I living with [Phillips] called me round 10 Wednesday morning and tell me they ain't finding Frankie and he going and look for he." The woman said she was later informed that Lewis's body had been discovered "the same Wednesday, he went in de pit". France explained that on the day of the incident, her reputed husband had sent Lewis to fetch a "pontoon board" when he went missing.
Lewis' uncle-in-law Audi Pestano, who was among the men who ventured to Tiger Creek with him, told this newspaper that there isn't much water in the area where they were staying, "even the water in which we were supposed to working in was about ankle deep". Pestano and Fayeanne both said that Lewis was unable to swim, and "he don't go anywhere near water so it ain't possible that he drown". Pestano added that "even if rain fall he does come out the rain… and he don't drink alcohol at all. The most he does do is ask for a cigarette."
The man's family is also alleging that France had at first informed them that Lewis had been fetching wood and was found in a "hutch", which is usually atop a boat, "and now [yesterday] she telling we bout pontoon." Pestano told this newspaper that there are no pontoons or hutches in the area.
This is not the first time that Lewis ventured into the interior to work in gold mining. According to Pestano, they have been to various camps; two of them being in Frenchman and Forty-Seven Backdam; but October 19 was the first time they went to work for Phillips.
He said the reason they left the area so soon was because they were refused food and drink by the boss man, who later ordered them out of the camp, stating that "he dint bring we here". As they were leaving, Pestano stated, they pleaded with Lewis to return with them, but France's sister persuaded him to stay and work.
He said the last time he saw his nephew-in-law was on Tuesday last, when he and the others left the camp. "If he went hear what I talk to he, he woulda still been here now," Pestano said.
Lewis's body is now at the Lyken's Funeral Parlour. Family members who went to view the body yesterday related to this newspaper that there were bruises on his legs and face, and his wife stated that the clothes he was wearing, which had bloodstains, were not his.
The family also stated that it might have been Lewis's employer who arranged for his body to be transported out from Tiger Creek. His wife said that when contact was made with the police at Port Kaituma, they said they had received no report of any death in the area.
Around the Web