North Georgetown Secondary School 'old girl' Aminah McPherson-Damon was yesterday admitted to the Bar before Justice Winston Patterson.
The 28-year old McPherson-Damon recently obtained her Legal Education Certificate from the Hugh Wooding Law School in Trinidad and Tobago.
Her petition was presented by Attorney Joseph Harmon before Justice Winston Patterson. She is attached to the Chambers of Moore, Harmon, Sobers and Gaskin.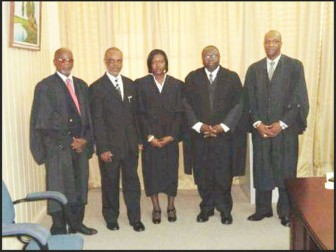 Prior to her studies in the twin island republic, McPherson-Damon read for a Diploma in Public Communication and a Bachelor of Law Degree at the University of Guyana.
The daughter of Dr Neil McPherson and Valerie Edwards, she expressed appreciation to her parents, her husband, her pastors and other family and friends for their prayers, support and guidance.
She also thanked Justice Patterson for his advice and she stated that it will remain with her throughout her career.
Around the Web