By Marcelle Thomas
A seven-year-old boy was among several persons who were injured after police fired rubber bullets to disperse an illegal protest march in the city yesterday.
Johil Mathis was treated at the Georgetown Public Hospital along with former PNCR-1G MP Joan Baveghems, 69, Sarah Johnson,75, and Brentnol Holder 61, Lurlene Nestor, Celeste McRae, Alana George, and Kathy Nurse. APNU activists attorney James Bond and retired Chief-of-Staff of the Guyana Defence Force Edward Collins were also among the injured and they were treated elsewhere.
The protest was organized to press the demands for a verification of the Statements of Poll from the November 28 elections. Police, who said no permission was granted for the march, said that they ordered the protestors to disperse and after their instruction was not heeded they fired rubber bullets at them.
Giving their account of what transpired, the injured explained that they had earlier gathered at the Square of the Revolution in preparation for what was to be a peaceful march around the city. They said that they had started walking westward from the Square along Brickdam. At the corner of Brickdam and Winter Place, they said they saw that the police officers had formed a human barricade, thereby preventing them from further walking west. They then decided to turn from Winter Place into Hadfield Street to continue when they heard the police shouting that they should disperse.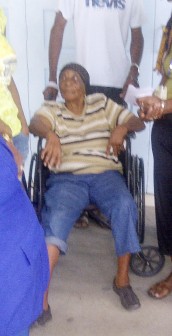 They said they did not heed the warnings but instead proceeded to turn into Hadfield Street and then shots rang out, sending the crowd screaming for cover.  "We de walking all de time when we hear a police [name given] shouting 'y'all best go home or we gon #%% y all up.' We ain't had time wid he, 'cause we seh we walking peacefully and is we right…next thing you know is one shout, I ain't know he fire pun deh *#@$$ and is shots dem man start licking, everybody gone helter-skelter 'cause we ain't know wasn't real gun," said one of the injured, who asked to be identified by his alias "Big B," instead of his real name.
Holder gave a similar account. He informed that he along with about four hundred protesters had assembled at the Square of the Revolution and they were in the vicinity of the National Insurance Scheme building when threats were hurled at them by the police. "Those police ain't know to talk to people," he said. "They cuss we up. You should hear them. When we turn de corner by NIS, we see like they come around into that little street and then out of nowhere they open fire. Bullets like first time! Everybody begin running helter-skelter", he added.
It was Holder who saw seven-year-old Mathis, who appeared scared, screaming and running. He said he held his hand and sought cover before later taking the child with him to the Georgetown Hospital.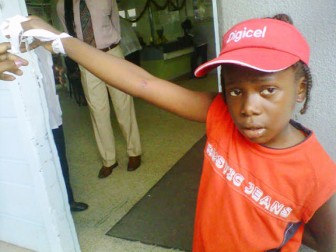 The child's father told Stabroek News that he normally walks and sells sweets, which was what he was doing at the time his son was wounded. When asked why the child was out of school and with him, the man replied that the boy was "not feeling well" and he did not have any other person at his home to care for him. He said he was caught 'between a rock and hard place,' since he had to choose between staying home and caring for the child without any money in his pocket or taking him with him and being able to provide a meal for him later on. "I is walk and sell these lil things," the man said, pointing to the confectionary on the makeshift cardboard tray he held. "Today he was not feeling too well. So I decided to bring him down to town with me.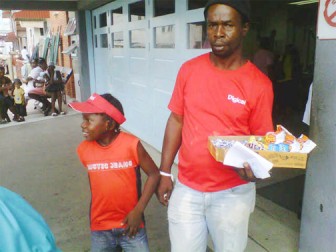 We ain't get nobody home to look him and we gat to eat. I walking, hustling pon de sideline when all I hear was shots and next thing when I look around de boy gone."
The father said it was sad that his day's work turned out the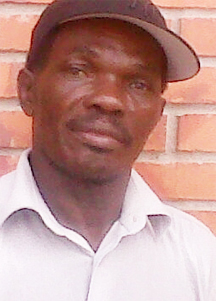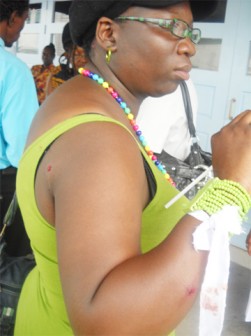 way it did and he was grateful that the child was not seriously injured.
Meanwhile, the senior citizens who were injured said they wanted to be a part of the peaceful protests, since they were not satisfied with the election results.
They were adamant that they deserve to be "in the thick of things," because they were concerned about their children's and grandchildren's futures and should not be at home "knitting and in a rocking chair" as some present suggested.
Around the Web