Magistrate Sueanna Lovell ordered the three men accused of fatally shooting 72-year-old Clementine Fiedtkou-Parris at her Robb Street home to appear in the Georgetown Magistrates' Court on January 5 for a report and fixture.
Orin Hinds, 35, of Burnham Boulevard, Mocha Arcadia; Kevin October, 29, of Second Street, Agricola; Cleon Hinds, 34, of 23 Middle Street, Albouystown and Roy Jacobs, 34, of Devon Street, Charlestown are accused of murdering Fiedtkou-Parris after enquiring about her on June 30.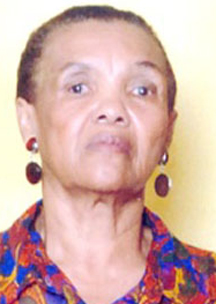 October told the court that at the time of the murder he was in prison and he pleaded with the court to grant him bail. The magistrate denied his application.
Around 7.45 pm on June 30 two men went to the woman's Robb Street home asking for 'Auntie'. Her brother Fitzroy Fiedtkou directed them up a side step and as she emerged from her bedroom, which is opposite the front door, one of the men pulled out a gun and shot her several times to the upper part of her body. They then jumped into a waiting car. The woman was taken to Georgetown hospital, where she was pronounced dead shortly after.
Around the Web