APNU Chairman Brigadier (ret'd) David Granger is calling for an independent commission of inquiry to be launched into the shooting of peaceful protestors on Tuesday as it believes that such action aimed at creating a crisis where none existed.
In a press release on Thursday, APNU quoted Granger as saying that an inquiry into the incident is necessary and punishment of the officers who breached Police Force regulations concerning the use of "minimum force" in internal security.
Police repeatedly fired rubber pellets at near point blank range into a group of protestors during a march in Hadfield Street, injuring several of them and causing some students of the nearby St Sidwell's Primary School to be taken to hospital after tear gas was discharged to disperse the crowd.
On Thursday, the Home Affairs Ministry said it did not instruct the use of rubber bullets against APNU protesters and out of "deep concern" it yesterday called in the police top brass to discuss the issue. Home Affairs Minister Clement Rohee met with Commissioner of Police, Henry Greene; Assistant Commissioner George Vyphuis, Commander "A" Division; Snr Supt Linden Alves 2nd 1/C "A" Division; Superintendent Errol Watts 3rd 1/C "A", Division; Supt Clifton Hicken – O/C TSU; Asst Supt Patrick Todd, Unit Commander to begin investigations into the circumstances surrounding the firing of rubber bullets at APNU protestors, the Ministry said.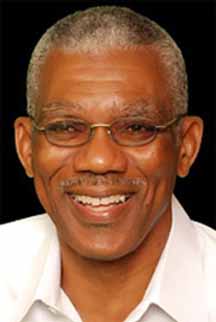 According to APNU, Granger said the Youth Coalition for Transformation (YCT) organised the march which started at the Square of the Revolution at about 9.30 am. The group of about 300 persons were marching to urge the Guyana Elections Commission to release the Statements of Poll (SoP) from the November 28 General and Regional Elections.
APNU said Granger met divisional Commander George Vyphuis at the Brickdam Police Station and Commissioner of Police Henry Greene at Eve Leary to express his distress over the shooting of the peaceful protestors and to demand that the police adhere to human methods of dealing with citizens.
Granger told the senior officers that ranks had employed excessive force to disperse the assembly, in contravention of Police Regulations that they use minimum force to disperse unlawful assemblies. He condemned the police conduct as a dangerous overreaction to the situation which aimed to create a crisis where none existed and called on them to deist from shooting innocent people and causing injury.
Further, Granger contended that the march was not unlawful and unruly; neither were demonstrators attacking persons nor destroying property. He also noted that they were not in possession of weapons or noisy instruments. Granger reiterated that citizens have the right to peaceful demonstration and assembly as enshrined in the constitution and which cannot be taken away by the police. "That right can be restricted only when there is a clear threat to public order or the rights and freedoms of others," the release noted. In the light of this, APNU is calling for an inquiry to be convened to investigate the incident.
Around the Web