New President Donald Ramotar is anxious to set about realizing the elections campaign goals the ruling party set, Cabinet Secretary Dr Roger Luncheon said yesterday.
Luncheon, who met members of the media for the first time under the new presidency, gave a brief synopsis of the cabinet meeting held with President Donald Ramotar and members of his newly formed government.
Luncheon said that the first official meeting of the PPP/C Cabinet went smoothly. Without going into much detail, he said that the intentions of Ramotar's administration were given tomembers of Cabinet, while they were also updated on a meeting between Ramotar and the opposition leaders David Granger and Khemraj Ramjattan.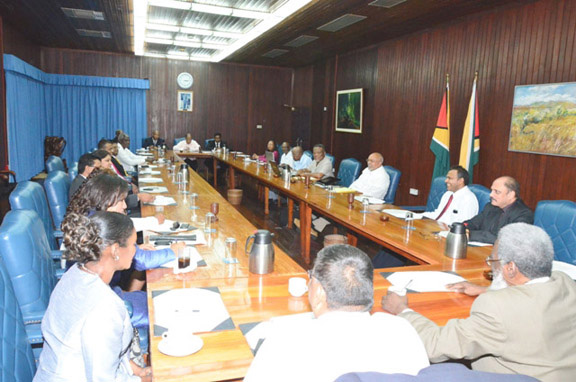 He went on to state that specifics of the meeting along with issues of appointments. Creation of the new ministry and other matters will be dealt with by the president at a subsequent meeting of which a date will be given, he added.
Luncheon said it was observed during the meeting that only the PPP/C and the Alliance for Change have so far submitted the names of respective members of parliament to the authoritative body responsible.
Referring to the current issue of opposition protesters, he said Ramotar had pointed out that they were having a negative impact on the economy and he was working on a strategy to find an amicable solution for all stakeholders.
Meanwhile, he said police were working within their lawful mandate when they fired against protestors on Tuesday. He said, "It is part of the repertoire of responses that law enforcers use when they have to deal with law breakers."
Around the Web