Businessman Gerry Gouveia has written APNU leader David Granger over two noisy demonstrations by the coalition's supporters outside his Duke Lodge operations in Kingston, saying that he is extremely disappointed that such "disorder" and "disrespect" was being allowed.
Protesters affiliated with the youth arm of APNU have targeted persons they believe have been supporting policies of the PPP/C government and two nights this week they protested and chanted in front of Duke Lodge in Kingston, a stone's throw from the US embassy.
In a letter, dated Thursday and released to the media yesterday, Gouveia detailed to Granger the "loud" demonstrations and registered his disappointment that PNCR operatives under Granger's leadership would be allowed to display such disrespect and public disorder "knowing fully well the kind of guests that are housed at Duke Lodge." Gouveia said his hotel was occupied by diplomats, visiting business executives and tourists.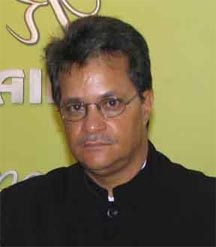 Gouveia, a former GDF pilot, also recalled his relationship with former army brigadier Granger and other ex-military men involved in the APNU campaign. "I am personally at a loss to understand how this breakdown of relationship could even have been allow(ed) to occur since my personal relationship with you, Larry London, Joseph Harmon and many other(s) of my army comrades are solid and intact. Please enlighten me if you are aware of the reason for this breakdown of our relationship.
"I have no personal quarrel with the People's National Congress, I served with pride in the Guyana National Service, an institution set up by the People's National Congress Government, and [I] am still to this day 36 years after a strong advocate for the reintroduction of the GNS. I was awarded a scholarship by the government of the People's National Congress. I served in the Guyana Defence Force and felt privileged to have served alongside and under men like you whom I have developed a high level of respect for and always held in great esteem," Gouveia wrote.
The PNCR is the main constituent of APNU.
Gouveia said he never thought that he would live to see the day when his business was targeted by supporters of the PNCR, particularly while Granger was in a leadership role in the party.
Saying that the protesters did not damage the property nor harm the staff, Gouveia said he wanted to remind Granger of a covenant he had made with the private sector prior to the elections that he would do everything possible to enhance public safety and national unity.
"I ask you humbly, to consider carefully, whether the strategy by your party operatives of unleashing your party supporters to demonstrate in front of business at night really embraces your covenant," he wrote.
Gouveia copied his letter to political leaders, the private sector and foreign missions.
Around the Web