(Jamaica Observer) Erica Atkinson and Shauntell Ferguson sat on a bench outside the arrival area at the Norman Manley International Airport depressed, tired, and infuriated by the treatment they said they received from Antiguan immigration authorities last Thursday evening.
They had just arrived in Kingston after surviving a visit they described as "hell", which they claimed saw them being jailed, taunted, ridiculed, and exposed to serious health risks in the eastern Caribbean country.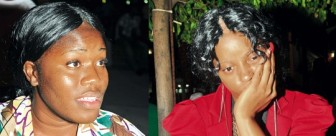 Atkinson, a bar operator, and Ferguson, who is unemployed, said they went to the island "just for the experience". Atkinson, a relatively frequent flyer who celebrated her birthday in September, said the vacation was a belated present to herself.
Ferguson said the trip was her first time leaving Jamaica.
Their excitement reportedly turned sour upon arrival at the V C Bird International Airport in Antigua about 9:00 Sunday night.
There, they were among a group of Jamaicans — mostly females — who were yanked from Immigration checking lines, told to sit on a nearby bench and await the arrival of an airport supervisor, they said.
Thirty minutes later, a male supervisor arrived with other Immigration workers and began searching the group of Jamaicans. He asked questions about their business in the country, and about the persons who were to receive them.
Some of these 'receivers' or hosts — as in Atkinson's case — were invited into the interviews, she said.
"He asked us how long we knew each other and how do we communicate. I told him I knew my receiver for two years, and that we mostly communicated over the telephone," said Atkinson.
"They then asked if we were going to have sex and I told them that that was our personal business and that it had nothing to do with Immigration," related Atkinson, who said that her response angered the supervisor, who continued hurling disrespectful questions and insults at her and her friend, repeatedly urging them to "tell the truth, man".
Ferguson, who had booked reservations at a hotel for two weeks, was asked by the Immigration officers how she would finance her visit.
"I told them that I travelled with US$331 and that I would receive more money from a friend in the United States, who would accompany me on the island two days later," she said, adding that the supervisor, obviously in disbelief, instructed her to return to the bench as he intended to continue his interrogation later.
It was then, according to the women, that the group recognised that they were in trouble.
They said about five female Immigration officers who were watching the proceedings started hurling insults at the group of Jamaicans, alleging that they were in the country to "take their men".
The insults grew louder they said, as more female Immigration officers joined the jeering party, laughing at the Jamaicans as they awaited their fate on the airport bench.
Said Atkinson: "They (immigration officers) started to jeer us. One of them pointed at me and said 'Look at her, look at her. She coming to take Antiguan women's men. All you Jamaican women do is come here to take our men. We don't want you here,'" she said.
Up to yesterday, the Sunday Observer tried unsuccessfully to elicit a response from Antiguan Immigration officials regarding the incident.
Calls to a cellular phone listed as belonging to the Chief Immigration Officer went to voicemail.
The matter was also reported to the Ministry of Foreign Affairs in Jamaica, but a response from that Government body was not received in time for publication.
The statements allegedly made by the Immigration personnel caused many of the Jamaicans to begin questioning the Immigration workers about what they had done wrong and what was to be their fate, Atkinson said.
But their queries, she alleged, only resulted in more insults.
Atkinson said one female Immigration officer laughed as she chanted to the tune of a popular Christmas carol: "Jingle bells, jingle bells, down in the cell them a go…," continued Atkinson, who said she began to cry when she heard the word 'jail'.
The Immigration officers were relentless, despite her tears, she said.
"Look at her, she acting as if she is a baby. Oh, you want a cotton candy or a chocolate. You think you too pretty to go in the lock-up?" asked the woman, Atkinson said.
Ferguson backed up her friend's story: "Everyone was just astonished because we did not think that if we were denied stay we would have been jailed. We were put among their prisoners who had committed all kinds of crimes; our lives were in danger," she insisted.
Worse than the taunting and disrespect they said they received from the Immigration workers, the women said, was the deplorable condition of the single cell they were all placed in at a nearby police station.
"It had faeces on the wall, there were plastic bags, plastic bottles, dirty water with pee, and used toilet tissue on the ground," said Ferguson, her face a picture of disgust as she spoke.
An incensed Atkinson said that the bathroom facilities at the police station were even more unsanitary.
"I told them that I wanted to use the bathroom and they directed me to one directly beside the cell," she said. "It was in the same condition," said Atkinson.
She said the odour was so bad, police officers covered their nostrils when walking on the cell block.
"When I asked if I could use another bathroom, a policeman said 'we don't have any female to take you to it, so you might as well use that one,'" she claimed, adding that she eventually chose to use the designated bathroom.
The policeman reportedly taunted her, saying: "If you hold up the urine, you are going to end up with bladder infection, and if you use that one, you are going to end up with infection anyway. So choose which one of the infections you want'."
According to Atkinson, she spent one day in the lock-up as she secured a lawyer who got her bail. She was released into the care of her receiver. She said she spent approximately US$135 for travel expenses, bail fees, and lawyer fees.
Ferguson said her ordeal was worse. She spent four days in the unsanitary jail cell before being granted bail. She claimed she spent more than the equivalent of J$200,000 during her ordeal.
They say up to now they have not been told what they were charged with.
The women say the Antiguan lawyer whose services they had engaged took the matter to court on Thursday in a bid to find out why they were detained. However, the judge, they claimed, declared that the Antiguan authorities had a right to deny them entry and any redress would have to be sought on their return to Jamaica.
The women told the Sunday Observer that following the court appearance they were taken from the courthouse to the nearby airport where they were placed on an aircraft destined for Jamaica.
Said Atkinson: "We need justice. All of their (Antiguan) secrets need to come out in the light. The people of Jamaica who have faced the same thing that we have faced need to come out. And I am begging our Government to defend us," she said.
Around the Web