The bound and gagged body of a 74-year-old farmer was on Sunday discovered in his Mahaica, East Coast Demerara home and five persons were in custody for questioning up to last evening.
Dead is Ramlogan Singh, called 'Tun Tun', of Lot 10 President Street, Unity, Mahaica. Despite suffering a stroke three years ago, the man, who lived alone, reared poultry and also had a large number of coconut trees, fruit trees and sugar cane.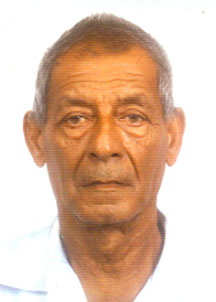 When he was discovered by his grandson, Singh was lying on his stomach, with his hands and feet tied behind his back and a piece of cloth tied tightly around his mouth. A post-mortem examination yesterday revealed that he died as a result of manual strangulation.
Police said in a statement on Sunday that they were investigating the circumstances surrounding the death of the man, whose body was found at about 8:30 am on his bed with his hands and feet bound.
The home of the victim, who lived alone, was ransacked. No other details were provided.
A police source told this newspaper that the five persons held are not suspects but have been detained to assist the police with their investigation. He said that at this point, investigators are looking for as much information as possible so as to ascertain what happened and why.
Further, this newspaper was told that the perpetrators severed the telephone lines and used the wires to "tie he up like an iguana. They plait he two foot and tie he up and then turn he around and tied he hand behind he back."
Meanwhile, when Stabroek News visited the area yesterday, residents of the close-knit community and Singh's relatives were still in shock. His relatives said that it was too early to tell whether there was a robbery, since while the perpetrators took money, there were other valuable items in the house.
No one reported hearing any strange noises or seeing any strange movements from the home.
Surjudai Harry recalled that a relative called, saying that "she come and see meh father lying on de bed bleeding through he nose and he nah talk." Shortly after, she said that she received a call from her sister who related the same thing. A brother called her minutes later advising her to "come quickly cause thief man come in by yuh daddy and them kill he and he deh lying down on he bed."
The grief-stricken woman told this newspaper that when she arrived the place was crowded and the police were there. She added that she was only allowed to enter after the police had completed their investigations.
Relatives explained to this newspaper that a grandson would usually visit Singh every morning to check on him and it was he who found his body. They explained that persons visited everyday to purchase chicken. They noticed that the gate was locked as was the door to the bottom flat. They called and knocked on the fence, however, there was no answer and since this was strange, they alerted his son, Surujballi Singh, who lives next door. Subsequently the grandson was asked to check and he made the discovery.
Robbery?
A window at the back of the house was open as well as the sliding door to the veranda. It is suspected that the perpetrators scaled the front fence and then climbed onto the veranda and attacked the sleeping man.
Relatives said that based on what they knew, only the substantial cash representing the sale of chickens was taken.
Harry later said that Surujballi went to a wedding on Saturday night and went home late. A sister, Gyatree Nanku, added that he got home around 11 pm and saw the light on, which was unusual. He apparently did not think much of it as Harry would often spend weekends with her father, who has been living alone for about 14 years.
Both women told this newspaper that their father had no enemies and that the incident is suspicious as the house was tumbled and the only thing taken was money.
"Yuh see if it was a robbery they woulda carry other stuff like he TV and other valuables he got in there," Nanku said.
They said that based on what they know the police found no clues in the yard and they later brought in a tracker dog. Relatives said that the police hadn't informed them of any developments in the case and that they were unaware that persons had been held.
Nanku was very angry that her father was killed in such a manner, because "they could they could have taken what they wanted and leave him because he was a sickly man." She said she believes that her father knew his killers and she was adamant that more than one person was involved in the incident.
She said that some time back, her father who has been in the poultry business for some 40 years, was attacked and robbed of jewellery and sheep.
Relatives could not recall him every expressing a fear of living alone.
They said that at one time, they tried to persuade him to go and live with one of his children but he refused, insisting that he was comfortable living alone.
Despite having had a stroke, the elderly man insisted that he wanted to continue his farming, they added, noting that he was very fragile but wanted to work to remain active and independent.
The relatives said this could be the end of the poultry business. They explained that the small chickens will be cared for and once they are grown and sold, they will decide whether the business will be remain open.
Drug use and
petty crimes
Meanwhile, Singh's relatives also said that drug use is problem in the community and called on the authorities to look into the problem urgently. They said that there was a gang of about 15 drug users who live in the area and that more than likely most of them have visited Singh to purchase chickens.
Nanku said villagers are often attacked. She said that about a few weeks ago, robbers converged on a shop in the area. She said too that persons on their way home are attacked on the "line top."
She said that she wants the drug abuse issue to be looked at and expressed belief that once that has been done, all villagers will be safe.
Relatives could not say if the community's policing group was active.
They said that this is the first murder the village has ever experienced.
Singh was described as a good father, who always gave advice and "the main bone of this family." He leaves to mourn his wife, Silvie Ramgobin, who resides in Canada.
Around the Web