US Ambassador D Brent Hardt and a team of US Embassy officials visited the CIOG on November 14 to discuss and advance plans to maintain cooperation in achieving their shared goals.
In a press release the Embassy said its team, which included representatives from the Humanitarian Assistance Program (HAP) the Political and Economic Section, the Public Affairs Section and the Consular Section and the Embassy's new Muslim Outreach Coordinator Suemayah Abu-Douleh, were warmly welcomed by CIOG President Fazeel Ferouz.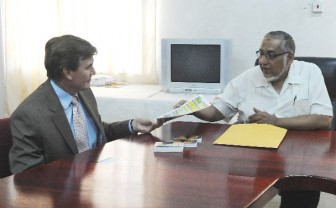 The meeting discussed a number of issues aimed at ensuring a continuing positive relationship. Ferouz and his colleagues gave an overview of the CIOG's mission and community projects including those relating to education, support for orphans and vulnerable children, medical assistance, family counselling, women's empowerment and election monitoring. "He highlighted that the beneficiaries of CIOG programs include members of any and all faiths and added that his organisation seeks to promote interfaith dialogue, religious tolerance, and peaceful co-existence," the Embassy said.
According to the release, the Embassy and all of its sections are eager to maintain a collaborative relationship with the CIOG in achieving their shared goals. The ambassador said that the HAP team has been working in conjunction with the CIOG for years and will continue its support through Medical Civic Action Programs and renovation projects within the Muslim community.
The Public Affairs Section can help to bolster educational outreach to vulnerable populations through speaker programmes and book donations, the release said.
Around the Web