BUENOS AIRES, (Reuters) – Argentine President  Cristina Fernandez said yesterday she will run for a second  term in an Oct. 23 election that polls show she could win  easily, helped by brisk economic growth.
Fernandez had been expected to run in the Oct. 23 election  although she kept the nation guessing for months, fueling  speculation that health concerns or family pressures might  persuade her to step aside.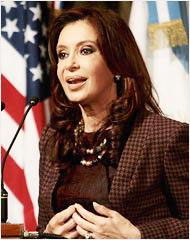 "We're going to keep going forward … I always knew what I  should do and what I had to do," Fernandez said in a televised  speech, without saying who would be her running mate.
"How could I give up and not keep going?" said Fernandez,  still dressed in black as she mourns her late husband and  predecessor as president, Nestor Kirchner, who died late last  year.
Fernandez often pledges to deepen the interventionist  economic and social policies begun eight years ago by Kirchner,  who was elected on the ashes of Argentina's devastating 2001-02  economic and political crisis.
Some polls show her with enough support to win the election  in a first round and avert a run-off vote, thanks to robust  growth in Latin America's No. 3 economy and the absence of a  strong rival challenger to unite the opposition.
A lawyer who served as a provincial and national senator,  Fernandez was better known than Kirchner when he was elected.
Credited with pulling Argentina out of a deep economic  crisis, Kirchner would have easily won re-election in 2007 but  instead stood aside for his wife to run. He was her closest  adviser and until his death it was widely believed that he  would be the one to run in this year's election.
Many investors hoped his death marked the beginning of the  end of the presidential couple's interventionist policies but  Fernandez's popularity has since surged, lifted by the strong  economy and public sympathy for the mourning widow. Loose monetary and fiscal policies are helping stoke  growth, which clocked a sizzling 9.2 percent last year, and  Fernandez's government will likely work to keep the economy hot  in the run-up to the election.
Around the Web