NEW YORK,  (Reuters) – The case against former  International Monetary Fund chief Dominique Strauss-Kahn, who  was charged with sexually assaulting a hotel housekeeper, is  near collapse, the New York Times reported yesterday.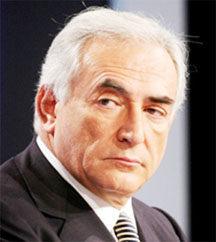 The paper quoted what it said were two well-placed law  enforcement officials as saying that although forensic evidence  showed there had been a sexual encounter between the French  politician and the maid, the accuser had repeatedly lied and  prosecutors did not believe much about what she had told them.
It said prosecutors had met with Strauss-Kahn's lawyers yesterday and the parties were discussing whether to dismiss the  felony charges.
Strauss-Kahn's defense attorney, Benjamin Brafman, said  earlier yesterday that their client would go back to court in  New York today at 11:30 a.m. (1530 GMT) before Judge  Michael Obus to seek changes to his bail conditions.
"Indeed, Mr. Strauss-Kahn could be released on his own  recognizance, and freed from house arrest, reflecting the  likelihood that the serious criminal charges against him will  not be sustained," the paper said. "The district attorney's  office may try to require Mr. Strauss-Kahn to plead guilty to a  misdemeanor, but his lawyers are likely to contest such a  move."
Strauss-Kahn, 62, had been a leading candidate for the  French presidency when he was arrested on May 14. He resigned  from the IMF on May 19 and pleaded not guilty on June 6,  vehemently denying the allegations.
The paper said that prosecutors had discovered that the  woman, a 32-year-old Guinean, had had a phone conversation with  an incarcerated man within a day of her encounter with  Strauss-Kahn in which she discussed the possible benefits of  pursuing the charges against him. The conversation was  recorded.
It added that the man, who had been arrested on charges of  possessing 400 pounds (181.5 kg) of marijuana, was among a  number of individuals who had made multiple cash deposits,  totaling around $100,000, into the woman's bank account over  the last two years.
Strauss-Khan was released on $1 million cash bail and a $5  million bond, and is under house arrest in a townhouse in the  Tribeca neighborhood of Manhattan, where he is equipped with an  electronic monitoring device and under the 24-hour watch of  armed guards. He faces up to 25 years in prison if convicted.
Around the Web