GUATEMALA CITY,  (Reuters) – Guatemala's  Constitutional Court yesterday ratified the extradition of  former President Alfonso Portillo to the United States, where  he faces money laundering charges.
Portillo, who was president from 2000 to 2004, is accused  of laundering $70 million through U.S. banks.
"This court has voted unanimously to deny the appeal by  Alfonso Antonio Portillo Cabrera and consequently the  extradition order to the United States holds firm," said  Alejandro Maldonado Aguirre, president of the court.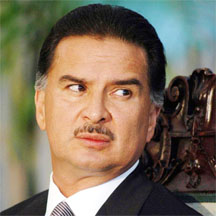 No date has been set for the extradition, which also must  be approved by President Alvaro Colom.
The court recommended that Portillo, currently under house  arrest, be moved to a detention center until Colom makes a  decision on the case.
A federal grand jury in New York requested Portillo's  extradition in January, claiming he and a team of  co-conspirators embezzled Guatemalan public funds and hid the  money in offshore accounts.
The U.S. grand jury's indictment claims Portillo, 59, also  laundered money through European accounts and French  prosecutors are investigating the allegations.
In May, a Guatemalan court dismissed charges from the  country's Public Ministry that the former head of state stole  $15 million from the military in 2001.
Portillo, who took office promising to redistribute wealth  in the poverty-plagued Central American country, fled Guatemala  for Mexico shortly after completing his term in 2004. He was  extradited from Mexico to Guatemala in 2008 to stand trial.
Around the Web