TRIPOLI, (Reuters) – The wife of Muammar Gaddafi and  three of his children took refuge in Algeria yesterday but the  whereabouts of the former strongman himself remained a mystery a  week after rebels drove him from power.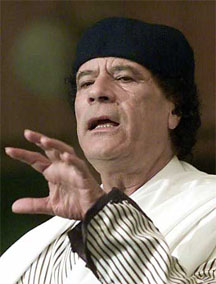 Algeria's Foreign Ministry said Gaddafi's wife Safia, his  daughter Aisha and his sons Hannibal and Mohammed had entered  Algeria yesterday morning.
The development threatened to create a diplomatic rift just  as the rebel National Transitional Council (NTC) worked to  consolidate its position as Libya's new government.
An NTC spokesman accused Algeria, Libya's western neighbour,  of an act of aggression and said the council would seek to  extradite the Gaddafis.
A senior rebel officer also said Gaddafi's son Khamis, a  feared military commander, had been killed in a clash outside of  Tripoli. The report could not be independently confirmed.
Meanwhile rebel forces converged on Gaddafi's hometown of  Sirte from east and west, intent on seizing one of his last  bastions of support either by force or by negotiation.
Muammar Gaddafi's whereabouts have not been known since  Tripoli fell to his foes and his 42-year-old rule collapsed a  week ago after a six-month uprising backed by the West and  several Arab nations.
Algeria's acceptance of Gaddafi's wife and offspring angered  the rebel leadership, who want him and his entourage to face  justice for years of repressive rule and who fear that he could  orchestrate a new insurgency unless he is captured.
"We have promised to provide a just trial to all those  criminals and therefore we consider this an act of aggression,"  spokesman Mahmoud Shamman told Reuters. "We are warning anybody  not to shelter Gaddafi and his sons. We are going after  them…to find them and arrest them."
NTC chairman Mustafa Abdel Jalil called on the Algerian  goverment — which has not recognised the council as Libya's  legitimate authority — to cooperate with it and hand over any  of Gaddafi's sons who is on its wanted list.
Asked if he knew where Gaddafi senior was, he told al-  Jazeera TV: "If we knew where Gaddafi was now our  revolutionaries would be on their way to capture him. We have no  information that Muammar Gaddafi is in Libya or in any other  place."
Earlier on Monday, Jalil appealed to NATO to keep up its air  campaign in support of the rebels, saying Gaddafi was still a  threat.
NATO warplanes have struck at Sirte, on the Mediterranean  coast, in recent days and Britain said its aircraft also  attacked artillery units of Gaddafi forces near Sidra, west of  the oil town of Ras Lanuf.
Around the Web