VENICE, Italy, (Reuters) – Hollywood veteran Al  Pacino is honoured by the Venice film festival yesterday with a  special prize and the presentation of his latest directorial  project "Wilde Salome".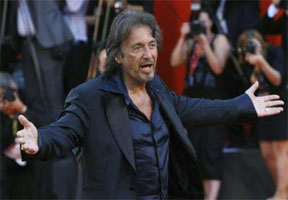 Even at such a star-studded festival, where the likes of  George Clooney, Gwyneth Paltrow and Madonna have walked the red  carpet this year, Pacino drew large crowds of screaming fans and  autograph hunters to the Lido island.
He receives the Jaeger Lecoultre Glory to the Filmmaker  Award at a gala awards ceremony.
Wilde Salome is part documentary about the staging of Irish  writer and poet Oscar Wilde's play "Salome" starring rising star  Jessica Chastain, part an exploration of the author and part  film version of Salome itself.
Pacino, one of the giants of cinema with eight Oscar  nominations including one win to his name, admitted to being a  little confused about what type of picture he had made.
"I guess what I tried to do is … create a story," Pacino  told reporters in Venice after the film was shown to the press.
"But I don't know what it is. I like to say it's a  documentary because it's not a film, but then it's not a  documentary either, so I'm confused too."
Around the Web