MOSCOW (Reuters) – Russian Prime Minister Vladimir Putin laid out the case for his return to the Kremlin yesterday and suggested President Dmitry Medvedev's role in any future government was not yet a done deal.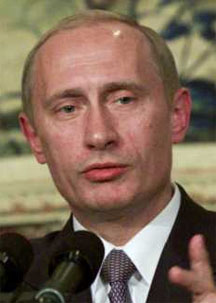 Putin and Medvedev revealed plans last month to switch roles in 2012, with Putin running in a March presidential election he is almost certain to win, and making his protege Medvedev prime minister.
While Putin is popular, some Russians fear his return would diminish hopes for political reform, and he has faced criticism — perhaps strongest among young people on the Internet — over a decision made behind closed doors.
In an interview shown during prime time on Russia's three leading television channels, Putin sought to address this anger as well as concerns that his return to the top Kremlin job could lead to Soviet-style stagnation.
"I do not remember that Soviet post-war leaders worked as intensely as I do or as President Medvedev does," Putin said in response to critics likening him to Leonid Brezhnev, part of whose 1964-1982 rule is known as the era of stagnation.
Putin assured Russians that they are free to accept or reject the job swap plan at the polls, saying: "We are offering such a configuration but the citizens of our country will say whether they agree or not.
"For an ordinary citizen, there is always a choice."
Putin, Russia's most popular politician, is expected to win the presidency. But he suggested Medvedev's appointment as prime minister would depend on the ruling United Russia party's performance in a Dec 4 parliamentary election.
As part of the plan, Russia's "tandem" leaders revealed last month, Medvedev will lead United Russia's list of candidates for the parliamentary vote in which the party will seek to keep its two-thirds majority in he State Duma, the lower house.
"If the voters vote for this list and we manage to form an effective parliament in which United Russia retains its leading position, then — building on this parliament, relying on this victory — Dmitry Anatolyevich (Medvedev) will be able to form an effective government," Putin said.
Around the Web