MELBOURNE, (Reuters) – Shane Watson won the Allan  Border Medal as the outstanding Australian cricketer of the  season for the second year in a row yesterday.
Watson was also named player of the year for tests and  one-day internationals at a gala ceremony at a Melbourne casino  while David Hussey prevented a clean sweep by winning the  Twenty20 award.
The 29-year-old Watson has accumulated 2,067 runs at an  average of 39 over the three forms of international cricket  since the voting period began on Feb. 14, 451 more than the  second most prolific runmaker Mike Hussey.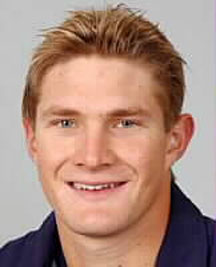 Despite opening the batting, Watson also took 47 wickets at  an average of 26.53 for his country, Australia's fourth highest  wicket-taker over the same period.
One of the highlights of his year was the unbeaten 161 he  scored to help Australia make a winning start in the one-day  series against England, Watson sealing victory with a six at the  start of the 50th over.
Around the Web