LONDON (Reuters) – British Olympic Association (BOA) chairman Colin Moynihan and chief executive Andy Hunt have been suspended from London 2012 organising committee board meetings because of a row over funding.
"Colin Moynihan and Andy Hunt remain directors of (London 2012 Organising Committee) LOCOG," a London 2012 spokesman said yesterday.
"The LOCOG board has decided to exclude them from board meetings whilst they are individually and actively involved in pursuing a dispute against LOCOG."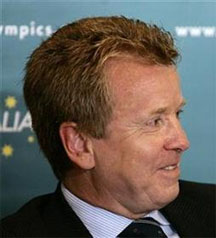 The BOA are unhappy about how surplus money from the Games will be allocated and have taken their case to the Court of Arbitration for Sport (CAS) after the International Olympic Committee (IOC) sided with LOCOG.
Hunt warned recently that the BOA faced a funding shortfall as it prepares the British team for next year's Games.
The BOA wants 20 percent of any surplus from the Games before the costs of staging the loss-making Paralympics are taken into account — a request that put the organisation at loggerheads with LOCOG.
A LOCOG spokesman send both Moynihan and Hunt were free to send alternative representatives to its board meetings. "The BOA is ably represented on the LOCOG board by HRH the Princess Royal, Craig Reedie, Philip Craven and Adam Pengilly, all of whom are on the BOA board," the spokesman said.  LOCOG chairman Sebastian Coe said last week that the sitaution "would be sorted out" and was not overshadowing last week's launch of ticket sales for the Games.
He also denied that BOA's funding shortage would impact on teh home medal haul. "The BOA have raised a very narrow, very technical point and it will be resolved," he told Reuters on the day more than six million tickets were made available.
"It doesn't impact remotely on the performance of the athletes because that's not what the BOA does. That's done by UK Sport and through government funding. "It also doesn't impact on the staging of the Games because that's what LOCOG does and we're getting on with it."
Around the Web