The Guyana Volleyball Federation (GVF) is eagerly anticipating the start of their nationwide Schools Volleyball Programme and is currently making arrangements with the International Volleyball Federation for launching the programme.
This was revealed by GVF President Lennox Shuffler while speaking to Stabroek Sport yesterday.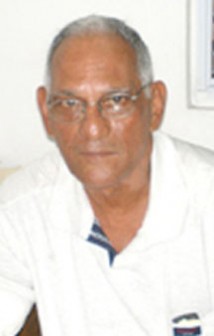 Shuffler indicated that the GVF is still in contact with the Technical Director of the International Volleyball Federation since his trip to the Volleyball World Congress, hosted by the International Volleyball Federation (FIVB) last September in Italy.
It was indicated by the FIVB that assistance will be granted to countries such as Guyana whose volleyball standard is at Level One.
According to Shuffler the GVF has requested assistance in the form of volleyballs, nets and volleyball accessories for a period of four years for the GVF's nationwide schools volleyball programme. He added that the request has already been approved by FIVB and the GVF is currently awaiting a response from FIVB on when the items for the programme will be sent.
Further, Shuffler stated that he expects to receive confirmation on when the GVF will receive the items for the school programme in the next two weeks. "We are waiting for them [FIVB], the latest thing [info] we got from them was less than a week ago is that they are trying to get these things up together and they will advise us. I would imagine within maybe two weeks I'll get a firm answer there," said Shuffler. He noted that when it is launched, the programme will take volleyball "into the schools in the ten regions in Guyana." "We feel that the schools programme is the best way forward… there's big reason for the schools programme too, being that physical education is part of the curriculum and if we start the children young, by the time they are ready to go into the examination they would have a very strong knowledge of volleyball," he added.Shuffler said further that while the GVF is waiting on the volleyball equipment to commence the schools programme they will be contacting "the relevant authorities" such as the Ministry of Sport, the National Sports Commission and the Ministry of Education to ensure that everything runs smoothly.
"This programme is nothing new to us. It's just that we are trying to get it countrywide because we are one of the first volleyball federations in this new era to get this kind of funding," Shuffler explained.
Around the Web