MUMBAI (Reuters) – India completed an epic journey beginning in Dhaka 43 days ago and culminating in a six-wicket victory over Sri Lanka yesterday after they had appeared to be down and out in the World Cup final.
Two thunderbolts from Lasith Malinga accounted for Virender Sehwag (0) and Sachin Tendulkar (18) after India set out in pursuit of a challenging target of 275.
Only two sides had previously won the trophy batting second and a crowd of 33,000 at the Wankhede Stadium sat in stunned silence after Tendulkar edged a catch to a jubilant Sri Lanka captain Kumar Sangakkara behind the stumps.
Tendulkar had scored centuries against England and South Africa to take his tally of international centuries to 99 and all Mumbai had been willing him to score the 100th in his native town.
Malinga had other ideas after an assured start by Tendulkar, who at the age of 37 is unlikely to play in another World Cup. But Tendulkar, the ultimate team man, was just happy to be part of a winning outfit at his sixth World Cup and he was carried on the shoulders of his team mates around the ground after the best final since Pakistan beat England in 1992.
"He's carried the burden of the nation for 21 years so it's time we carried him on our shoulders," said Virat Kohli, summing up the feelings of a billion of his compatriots.
In a reminder, if it were needed, that no individual is bigger than the team, Tendulkar's early exit gave an opportunity to Gautam Gambhir and captain Mahendra Singh Dhoni to take their side to victory. India became the first nation to win the event on home soil.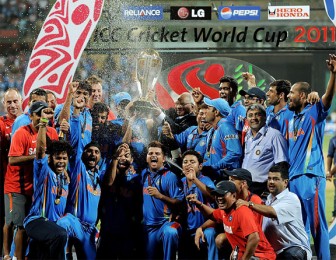 Gambhir scored an assured 97 while Dhoni, who had looked leaden-footed throughout the tournament, recaptured his form to score an unbeaten 91, finishing the game with a theatrical six.
Sri Lanka's 274 for six after Sangakkara had won the toss was largely the result of a masterly 103 not out from Mahela Jayawardene.
But after Malinga's opening burst, Sri Lanka's decision to drop spinners Ajantha Mendis and Rangana Herath backfired and Sangakkara always seemed a bowler short.
Muttiah Muralitharan, determined to bring the trophy to Sri Lanka for a second time, did his best to overcome the effects of a hamstring and a knee injury in his final international match.
Although the competitive fires still burned bright, he was understandably tentative in his run-up, the ball did not spin and turn as it once did and he failed to add to his record of 534 one-day wickets.
Dhoni, who joins Kapil Dev as the only two Indian captains to lift the World Cup, said the team had set their sights on the World Cup 18 months to two years ago.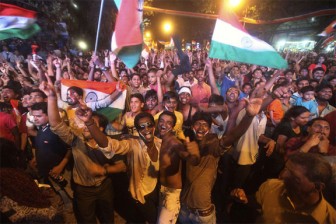 "Whatever we were doing on the field we had a long-term goal," he said. "Just by having a target in mind doesn't mean you will win the World Cup.
"We prepared well for the World Cup, we tried to keep each and every individual fit. We tried to keep the best XI in the best form.
"We peaked at the right time, we wanted to win it for each other."
Yuvraj Singh was named as the man-of-the-tournament, after his consistency with the bat and his invaluable contribution with his left-arm spin.
"This is unbelievable," he said. "Tonight is going to be good night. Thank you India!
Scoreboard
Sri Lanka innings
U. Tharanga c Sehwag b Khan                                                  2
T. Dilshan b Harbhajan Singh                                                33
K. Sangakkara c Dhoni b Yuvraj Singh                                48
M. Jayawardene not out                                                         103
T. Samaraweera lbw b Yuvraj Singh                                     21
C. Kapugedera c Raina b Khan                                                    1
N. Kulasekara run out                                                                32
T. Perera not out                                                                           22
Extras (b 1 lb 3 w 6 nb 2)                                                           12
Total (for six wickets; 50 overs)                                             274
Fall of wickets: 1-17 2-60 3-122 4-179 5-182 6-248
Did not bat: L. Malinga, S. Randiv, M. Muralitharan Bowling: Z. Khan 10-3-60-2 (1w), S Sreesanth 8-0-52-0 (2nb), M. Patel 9-0-41-0 (1w), Harbhajan Singh 10-0-50-1 (1w), Yuvraj Singh 10-0-49-2, S. Tendulkar 2-0-12-0 (3w), V. Kohli 1-0-6-0
India innings
V. Sehwag lbw b Malinga                                                            0
S. Tendulkar c Sangakkara b Malinga                                  18
G. Gambhir b Perera                                                                  97
V. Kohli c & b Dilshan                                                                35
MS Dhoni not out                                                                         91
Yuvraj Singh not out                                                                  21
Extras: (b-1, lb-6, w-8)                                                               15
Total: (for four wickets, 48.2 overs)                               277
Fall of wickets: 1-0 2-31 3-114 4-223
Did not bat: S. Raina, Harbhajan Singh, Zaheer Khan, S. Sreesanth, M. Patel.
Bowling: Malinga 9-0-42-2 (2w), Kulasekara 8.2-0-64-0, Perera 9-0-55-1 (2w), Randiv 9-0-43-0, Dilshan 5-0-27-1 (1w), Muralitharan 8-0-39-0 (1w)
Around the Web