The decision to make a modified DRS mandatory across Tests and ODIs is being considered a victory by both sides yesterday. The Board of  Control for Cricket in India (BCCI)  was quick to emphasise that they had not changed their stance on the DRS and the International Cricket Council (ICC)  was confident it had won over the last and strongest opponent of the review system in its previous form.
At the end of a day that contained several meetings at the annual conference in Hong Kong, ICC chief executive Haroon Lorgat had only one comment to make. "This is only the end of day two of what is a Test match," he told ESPNcricinfo as he left a cocktail party held for all the delegates.
The DRS decision had not been brought to a vote during the morning session of the chief executives' committee meeting. Later in the afternoon, the word "unanimous" was quickly and repeatedly used to explain how smoothly all the differences had been resolved.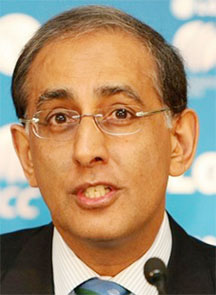 The discussions over the DRS and the FTP were expected to begin on the first day of the ICC's conference, along with the cricket committee's other recommendations concerning playing conditions. ESPNcricinfo learned that they were deferred to the second day because there were said to be fairly frosty exchanges during the meeting. Members were given the impression by the BCCI's statements that there was a possibility that the FTP's final design could be linked to their opinions on how the DRS recommendation was handled at the meeting. Some officials strongly implied this was the case, though others like Gerald Majola, the Cricket South Africa chief executive, dismissed it outright.
The FTP agreement, which has been sent up to the ICC's executive board for approval, is vital for all Members as television rights are sold based on the itineraries drawn up in advance. The presence of India in the schedule brings the largest chunk of member boards' earnings. It is important to note that seven of the ten Full Member nations (excluding Pakistan, Sri Lanka and India) will draft new television deals in the next 12 months. Any freeze in relations with India reflecting in the FTP would have a direct bearing on the value of those broadcasting agreements.
When the meetings resumed on Monday the common opinion was that, while everyone agreed on the necessity of the DRS, it would be advisable to opt only for the technologies that everyone agreed with.
This led to the ball-tracking technology being removed and the infra-red camera being included in the list of mandatory requirements for the DRS.
The BCCI's acceptance of the DRS is particularly ironic. The suggestion of a review system for umpiring decisions was first brought to the ICC's attention, an official said, "about six to eight years ago," by Duncan Fletcher – then coaching England but now working with the Indian team. In his first press conference as India coach, Fletcher's comment on the DRS was cut short by the BCCI secretary N Srinivasan with the statement, "Mr. Fletcher doesn't know BCCI's stance on DRS". It has now changed. Or perhaps it has been allowed to stay the same.  (Cricinfo)
Around the Web