LONDON, (Reuters) – World Boxing Council heavyweight  champion Vitali Klitschko promised yesterday to knock Briton  David Haye to the floor if the pair ever meet in a world title  fight.
Haye was outpointed by Vladimir Klitschko in Hamburg on July  2 to give the younger of the two Ukrainian brothers the World  Boxing Association title to add to his World Boxing  Organisation, International Boxing Organisation and  International Boxing Federation crowns.
The Briton wanted to unify the world title by beating both  brothers before retiring on his 31st birthday on Oct. 13. He  blamed a broken toe on his unanimous points defeat and said he  would be prepared to postpone retirement if Vladimir Klitschko  agreed to a swift rematch.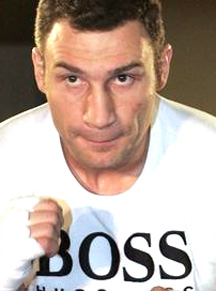 Both brothers were angered by Haye's trash-talking before  the Hamburg fight and Vitali, four years' Vladimir's senior at  the age of 39 but still regarded as the superior fighter, said  he wished the Briton had been knocked to the canvas.
"I was so happy (when) Vladimir won the fight but I was a  little bit unhappy because I wished that Vladimir sent him to  the floor," he told reporters.
"If I fought David Haye, I can promise one point. The reason  why I would fight against him, just with one goal. To send him  to the floor."
Vitali, unbeaten since he was stopped by Lennox Lewis eight  years ago, said he was delighted that all the belts now belonged  to the one family.
"We're very happy," he said. "And we're one team."
Vladimir also emphasised the family unity.
"We did spar in the past and we decided not to spar anymore  because the competition is too strong. Neither of us wants to  give up and we just decided to help each and not destroy each  other," he said.
Around the Web