By Treiston Joseph
Guyana's male and female teams yesterday shot into the semi-finals of Digicel's Caribbean Areas Squash Association (CASA) Junior Championships, continuing dominant performances that have established them as the ones to beat in the competition.
At the National Racket Centre and at the Georgetown Club Courts, the female team followed up their dominant play against Bermuda on Monday to trounce the Cayman Islands 5-0, while the men pulled off a 5-0 win over The Bahamas.
In today's semi-finals, the females will look to continue their winning form against Trinidad and Tobago, while the male team will face Jamaica. In the two other semi-finals, Bermuda's male team will take on their Trinidad and Tobago counterparts, while the Cayman Islands' females will do battle with Jamaica.
Mary Fung-A-Fat finally got her racket swinging for Guyana after a walkover in the under-19 category when Guyana faced Bermuda. Fung-A-Fat faced Eilidh Bridgeman and defeated her 3-0, with figures of 12-10, 11-5 and 14-12. Kayla Jeffrey dismissed Kristina Myren 3-0, with figures of 11-3, 11-8 and 11-1 in the under-19 category, giving Guyana a 2-0 lead.
Akeila Wiltshire then capped off the victory with a 3-1 win over Lara Connolly in the under-15 category, while Lydia Alphonso and Victoria Arjoon gained walkover victories in the under-13 and under-17 categories, giving Guyana a 5-0 result and a spot in the semi-finals.
The males, coming off an intense 3-2 victory on Monday against Bermuda, gave home supporters less of a nerve-racking experience when they easily dispatched their opponents from The Bahamas.
Jean-Claude Jeffrey kept his cool against Dominic McDonald, producing a 3-0 result with 11-4, 11-0 and 11-7 in the under-19 category, while Deje Dias followed suit to defeat Michael Thompson 3-0, beating him 11-8, 11-1 and 11-3 in the under-19 category.
In the under-17 category, Jason-Ray Khalil made quick work of Lloyd Usher, winning 3-0 with 11-1, 11-4 and 11-0 to seal the team win for Guyana.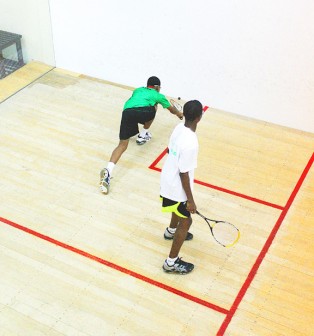 Patrick Fraser and Nyron Joseph were the exclamation point for the males as they won their sets 3-0 and 3-1, respectively, in the under-13 and under-15 categories.
The males later returned to sneak by the Organisation of Eastern Caribbean States (OECS) 3-2, to finalise their spot in the semi-finals.
Joseph started Guyana off on the right foot when he defeated Jason Doyle 3-0, with scores of 11-6, 11-8 and 11-4 in the under-15 category.
Benjamin Mekdeci then defeated Samson Viville 3-0 with an 11-3, 11-2 and 11-7 score line in the under-13 category. Jeffrey then lost to Jules Snagg 0-3, at 1-11, 8-11 and 4-11 in the under-19 category, to make the score 2-1.
Jason-Ray Khalil, however, sealed Guyana's advance as his unorthodox play caused Romario Constance to behave in an unethical manner on the court, which forced his team manager to withdraw him from the match-up.
Kevin Hannaway of the OECS then rebounded for his team by defeating Alex Arjoon of Guyana 3-1, with 11-4, 14-12, 6-11 and 11-6.
Meanwhile, earlier in the day the male Bermuda team defeated the OECS 3-2 while the Trinidadian girls slipped by Barbados 3-2. The OECS females mirrored their male counterparts as Jamaica handed them a 5-0 defeat.
Guyana's female team will clash with Trinidad and Tobago at 1pm, while the male team will face Jamaica at 5pm.
Around the Web