The Guyana Karate College hosted a ceremony at the Malteenoes Dojo on Tuesday evening to honour students who had successfully completed their exams and promote them to higher Kyu rankings.
According to a press release Kyu is a Japanese term used in martial arts, for academic tests and in other similar activities to designate various grades, levels or class of proficiency or experience. In his address, President of the Guyana Karate College (GKC) Shaun McGrath said the certificates would be given to the most successful karatekas from April 2011, as the organisation had recently transitioned from the old International Shotokan Karate Foundation (ISKF) to the new IKD (International Karate Daigaku) which came into existence in February.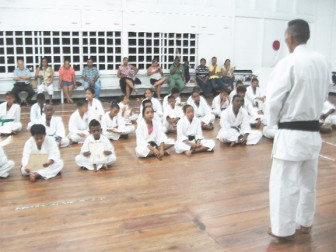 The IKD was started by Master Frank Woon-a-Tai, a Guyanese born 9th degree Black belt, who is currently based in Toronto, Canada. It is "dedicated to the teachings of Master Funakoshi, the founder of modern karate, and Master Masatoshi Nakayama, the internationally renowned master of Shotokan Karate, who saw karate as an unfinished art that would grow with knowledge," the release said. Certificates were presented by Chairman of the Guyana Karate College Jeffrey Wong.
In addition, GKC Public Relations and Communica-tions Officer Wayneright Orderson said the college is sending a 12-man squad to represent Guyana at the Caribbean Karate Champion-ships in Grenada in August. The squad will comprise mostly junior players in the 10-12, 13-15 and 15-17 age groups as they performed well at the last junior karate event held in St Lucia three years ago.
Orderson also said the group was eagerly anticipating the start of construction on the Karate Dojo in Liliendaal on the East Coast.
Around the Web