MAYAGUEZ, Puerto Rico, CMC – Leford Green continued his love affair with the Central American Stadium track on Saturday, when he again upstaged World-rated Javier Culson to win the men's 400 metres hurdles at the Central American & Caribbean Senior Championships.
The Jamaican clocked a season's best 49.03 seconds to take the gold medal, after his main challenger lost his stride, and lost their rematch.
Green had beaten hometown hero Culson last year at the same venue to capture the CAC Games gold medal.
Former Olympic and two-time World champion Felix Sanchez of the Dominican Republic and Trinidad & Tobago's World Junior champion Jehue Gordon also made the most of Culson's mis-steps to finish second (49.41) and third (50.10) respectively.
It was Sanchez's fastest time this year by a half second, repeating his silver medal from two years ago in Cuba, and it was also the same colour medal for Gordon that he grabbed in Havana, denying Culson a podium finish, and condemning the hometown boy to his slowest time in an international final in four years of 50.27.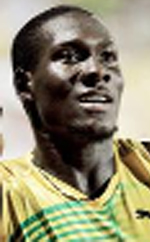 Andrea Sutherland gave the Jamaicans the sweep of the event, running 56.75 to win the women's event in impressive fashion.
Sutherland gave proof that this race continues to be a favourite of the Jamaican women, following the trailblazing, former Olympic champion Deon Hemmings, reigning Olympic and World champion Melaine Walker, and reigning IAAF Diamond League champion Kaliese Spencer.
She was the only runner to go under 57 secs, prevailing over Yolanda Osana of the Dominican Republic (57.23), and Katrina Seymour of The Bahamas (57.24).
Like Culson, T&T's Josanne Lucas, a bronze medallist at the 2009 World Championships, entered the race as the favourite. After all, she had clocked the fastest time in the semi-finals, but she failed to fire, and had to settle for a disappointing fifth in 58.27.
The Jamaicans also ensured the destination for the 4×100 metres relay gold medals was Kingston, when a gutsy run from 2010 national 100 champion Oshane Bailey anchored them to a narrow victory over four-time defending champions T&T.
Lerone Clarke, two-time World junior champion Dexter Lee, and Jason Young completed the squad that gave Jamaica their first men's sprint relay gold medal at this meet in 22 years, with a time of 38.81.
T&T, comprising Aaron Armstrong, Darrel Brown, Emmanuel Callender, and Keston Bledman, finished eight hundredths of a season behind, followed by St. Kitts & Nevis, with 2003 World 100 champion Kim Collins running the second leg, finishing third in 39.07.
The T&T women's squad of Magnolia Howell, teenager Michelle-Lee Ayhe, Ayanna Hutchinson, and Semoy Hackett, had taken the women's version with a time of 43.47.
They finished 0.16 ahead of the Jamaica team of Jura Levy, Anastacia Leroy, Simone Facey, and Patricia Hall, with The Bahamas squad of 19-year-old V'Alonne Robinson, Nivea Smith, Cache Armbrister, and 18-year-old Anthonique Strachan on the anchor taking third in 43.74.
Elsewhere, St. Lucia's Lavern Spencer claimed her fifth overall and fourth consecutive high jump gold medal, clearing 1.82 metres, enough to win on the count-back from Venezuela's Marielis Rojas.
English-speaking Caribbean competitors, led by Tyrone Smith of Bermuda with a leap of 8.06 metres, swept the podium positions in the men's long jump.
Jamaica's Damar Forbes was second with 7.81, and Raymond Higgs of The Bahamas leapt 7.75 for third.
Claston Bernard of Jamaica was the only other English-speaking Caribbean competitor to reach the podium.
Bernard failed to recapture the men's decathlon gold medal, but he logged 7,299 points to finish second behind Marcos Sanchez, who gave the hosts their first gold medal with 7,397 points.
The championships were to conclude yestedday.
Around the Web