LONDON, (Reuters) – Rahul Dravid ensured India  avoided the follow-on in the first test against dominant England  at Lord's yesterday with an unbeaten 103 after Sachin  Tendulkar had again fallen cheaply at world cricket's  headquarters.
No other Indian batsman exceeded 50 as Dravid, alternating  careful defence with wristy elegance, took India to 286 all out  with his 33rd test century and his first at Lord's.
England, who made 474 for eight declared in their first  innings, were five without loss at the close of the third day,  an overall lead of 193.
"I was thinking about the 274 (follow-on mark) all the time,  I wasn't thinking about my hundred," Dravid told reporters.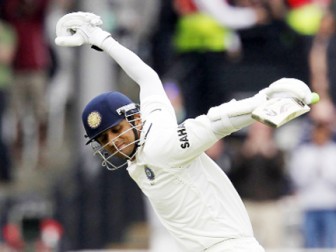 "If we had had to bat again we would really have had our  backs against the wall. The ball was new as well so we just  needed to get as many runs as we could."
Tendulkar, one century short of a record 100 international  hundreds, was the centre of attention with a packed crowd  willing him to succeed in the 2,000th test and the 100th between  the two countries.
The little Indian maestro looked in excellent touch with six  sweetly timed boundaries but in the end he could not even  improve on his previous Lord's best of 37.
After reaching 34 in a third-wicket partnership of 81 with  Dravid, Tendulkar played a tentative prod at a revitalised  Stuart Broad and was caught in the slips.
Broad, who retained his place in the final XI ahead of Tim  Bresnan after an unsuccessful series against Sri Lanka when he  pitched too short too often, bowled with pace and skill but  little luck to finish with four for 37 from 22 overs.
He bowled left-handed openers Gautam Gambhir (15) and  Ahbinav Mukund (49) after an opening partnership of 63 in the  morning session and captured the wicket of Tendulkar with the  fourth ball of his first over after lunch.
MISSED CATCHES
Andrew Strauss then grassed the simplest of chances at first  slip before VVS Laxman had scored while Graeme Swann dropped a  harder chance off Dravid at second slip, diving to his right in  the same over.
Dravid, 42 at the time, celebrated by clipping Swann for his  10th boundary to reach his 61st test half-century.
Laxman failed to take advantage after his let-off, scoring  only 10 when he lofted Chris Tremlett straight to Jonathan Trott  at long-leg. Suresh Raina fell lbw to Swann for a duck three  balls later and India were in trouble at 183 for five.
Mahendra Singh Dhoni played pragmatically, refusing to take  any risks while Dravid steadily accumulated at the other end.
They added 57 for the sixth wicket before England called for  the new ball and Tremlett found the outside edge of Dhoni's bat.
This time Swann pouched the ball and the Indian captain was  out for 28. Harbhajan Singh followed caught behind for a duck  two balls later also off Tremlett. Praveen Kumar swung merrily for 17 before he was caught off  Broad fending a short-pitched delivery and James Anderson  cleaned up the tail with the final two wickets.
Broad said he was very pleased with his performance. "I think it was quite obvious that I bowled a full length  today," he said. "I think it worked getting the batsmen driving  and that length could still hit the stumps.
"We all knew in the changing room that the way I bowled was  the way to go."
SCOREBOARD
England first innings 474-8 declared (K. Pietersen 202 not  out, M. Prior 71, J. Trott 70; Praveen Kumar 5-106)      
India first innings (overnight 17-0)
A. Mukund b Broad                                          49
G. Gambhir b Broad                                         15
R. Dravid not out                                            103
S. Tendulkar c Swann b Broad                      34
VVS Laxman c Trott b Tremlett                   10
S. Raina lbw b Swann                                         0
MS Dhoni c Swann b Tremlett                       28
Harbhajan Singh c Prior b Tremlett               0
P. Kumar  c Strauss b Broad                            17
Z. Khan  b Anderson                                            0
I. Sharma  c Prior b Anderson                          0
Extras (b-5, lb-12, w-1, nb-12)                      30
Total (all out, 95.5 overs)                             286  
Fall of wickets: 1-63 2-77 3-158 4-182 5-183 6-240 7-241  8-276 9-284 10-286
Bowling: Anderson 23.5-6-87-2, Tremlett 24-5-80-3 (10nb),  Broad 22-8-37-4 (2nb, 1w), Trott 6-1-12-0, Swann 19-3-50-1,  Pietersen 1-0-3-0
England second innings   
A. Strauss not out                               3
A. Cook    not out                                 0
Extras (w 2)                                         2
Total (for 0 wickets; 5 overs)           5  
Still to bat: J. Trott, K. Pietersen, I. Bell, E. Morgan, M.  Prior, G. Swann, S. Broad, J. Anderson, C. Tremlett
Bowling: P. Kumar 3-0-4-0 (1w), I. Sharma 2-1-1-0 (1w)
Around the Web