The Guyana Lawn Tennis Association (GLTA)P&P Brokers Limited annual tennis camp concluded Friday at the Pegasus Hotel courts with the presentation of certificates to 76 children aged 6 to 18 years who participated in the two-week programme at the Pegasus Hotel tennis courts.
Intermittent rain did not dampen the spirits of the eager young prospects and seasoned players as they rarely failed to show up for the exciting drills and closing competition which took place over the course of two weeks. In the final competition on Thursday, the following prizes were awarded: 6-11 years,  Beginners A group Winner: Charlise Adams, Runner up: Riley Nurse, Beginners B group Winner: Damian Braam, Runner up Saykar Boohoo Jr, Intermediate   Winner: Keshan Reese, Runner up: Kalyca Fraser. 12-18 Years Beginners Winner: Lemuel Ross, Runner up: Alexander Issaacs, Intermediate Winner: Abigail Welch, Runner up: Dominic Braam, Advanced  Winner: Daniel Lopes, Runner up: Gavin Lewis.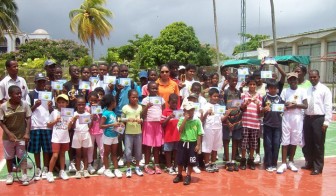 At the Closing Ceremony on Friday, Varsha Panday on behalf of P&P Insurance Brokers expressed joy at seeing once again the large number of children who continuously participate in the event sponsored by P&P for the eighth consecutive year. She applauded the GLTA for their commitment to the continuous development of tennis and in turn pledged the commitment of P&P Insurance Brokers towards next year's event. She was also a participant in this year event.
The GLTA Junior Chairperson, Nigel Glasgow conveyed to everyone, the focus of the GLTA Executive towards youth and congratulated the new parents on their efforts to ensure that children participate in healthy physical activity. He urged the new parents to continue with the sport of tennis and encourage their children to maintain a healthy balance of physical activity. The association also thanked the Pegasus Hotel for their continuous support through the use of their facilities for junior tennis activities.
The presentation of certificates was interrupted by rain but continued indoors shortly afterwards. Most Improved Boy and Girl medals were given to Matthew Blackman and Amba Persaud.
This activity jumpstarts the junior off-school season which usually includes the Nigel's Supermarket Classic junior tournament held locally while the more advanced players participate in regional competitions.
Around the Web