A mesmerizing spell of left-arm spin bowling from Trinidad and West Indies Under-19 player Derone Davis of 7-25 on the final afternoon propelled Trinidad to an impressive 73 run victory over hosts Guyana, at the Everest Cricket Club ground, yesterday. He finished with superb match figures of 11 for 55.
Although the sun was out in all its glory all day, overnight showers exposed the poor drainage capacity of another Georgetown venue. About five inspections were needed for the umpires and match referee who eventually deemed conditions fit for play at 3:00 pm.
Before the start, players and officials stood in a moment of silence to honour Umpire Clyde Duncan who died on Tuesday in Trinidad.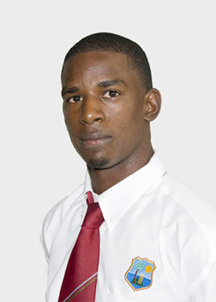 When the action commenced Guyana almost suffered an immediate setback, as in the first over of play, night-watchman Amir Khan attempted a lofted drive against off-spinner Idress Mohammed, and an easy catch at cover was put down by Keiron Joseph to the disgust of the "Trini" fielders.
Two overs later his vigil was ended when Saivon Lara diving forward brilliantly at short-cover snapped up a catch off the bowling of the ever impressive Davis as Trinidad drew first blood in this engrossing battle.
Enter the key to Guyana's run-chase – middle order batsman Chanderpaul Hemraj. The tension at this stage was so thick you could cut it with a knife.
A mouthwatering battle beckoned between Hemraj and left-arm spinner Davis which Davis eventually won by having him caught at first slip for 3. Davis ran and jumped around the field in utter jubilation. Guyana were now 21/3 in the 14th over as Trinidad scented outright victory.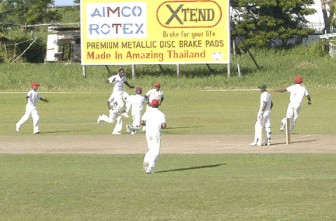 The Davis/Mohammed combination as it was in the first innings, backed up by excellent fielding left the Guyanese batsmen in a spin. They ran through the Guyanese middle to lower order, claiming the final seven wickets for 58 runs in 36 overs as Guyana's youth batsmen inexplicably failed to bat out for three hours to claim a draw.
Trinidad now move to second in the points standing with 24.3 and will tackle Barbados at the DCC Ground on Sunday. Guyana who slipped to fourth with 15.8 points  will oppose improving defending champions Windward Islands at the GCC ground on the same day.
Speaking to Stabroek Sport, Trinidad Manager Roland Sampath and player of the match Derone Davis gave their thoughts on the victory. "It was a good comeback victory for the boys after being disappointingly bowled out for 64 on the second day. Both sides however batted poorly against the spin and didn't show proper enough application. Overall as I mentioned before the game, my team will get better the more we  play in this tournament … given that our preparation in Trinidad was badly hampered by rain, said a relieved Sampath.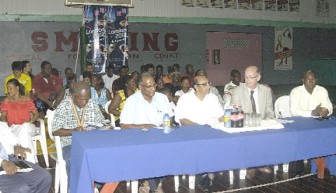 A delighted Davis from Clark Road Club in Central Trinidad, who bowled with the aggression of a fast bowler and great passion, expressed his confidence at being able to bowl out the Guyanese. "I was always confident I could play a key role in winning this game for my country. The pitch was turning so I just stuck to line and length along with assistance from the other spinners, and a few sportsmanship chats on the field to Guyanese batsmen aided us in completing the job. We knew that getting Hemraj early was key, he is a nervous starter from our observation and getting him quickly turned the game our way", declared a confident Davis.
The defeated Guyanese skipper Ronsford Beaton simply highlighted that he was proud of his team's bowling efforts but disappointed in their batting efforts and hopes to quickly move on from this defeat.
Guyana vs. Trinidad & Tobago, WICB Under 19, round three, 3rd day
Trinidad 191 (Stephen Sooklal 36, Kieron Joseph 30, Saivon Lara 26, Amir Khan 6-50) and 64 (Anthony Adams 5-16, Gudakesh Motie-Kanhai 3-0)  beat Guyana 103 (Chanderpaul Hemraj 49, Derone Davis 4-30, Idress Mohammed 2-25, Akeal Hosein 2-3) and 79 (Kandasammy Surujnarine 32, Derone Davis 7-25) by 73 runs
Scoreboard
T&T 1st Innings                                                                  191
GUYANA 1st Innings                                                       103
T&T 2nd Innings 64
GUYANA 2nd Innings (target: 153)
(overnight six for one)
K. Surujnarine c Mohammed b Davis 32
+K. Boodie lbw b Davis                                                              0
A. Khan c Lara b Davis                                                          6
C. Hemraj c Hosein b Davis                                                     3
K. Crosse c (sub) Williams b Davis                                             17
D. Rikhi c and b Mohammed                                                  7
J. La Fleur c Hosein b Davis                                                   1
A. Adams c Rajah b Mohammed                                             0
C. Pestano c Lett b Ali                                                              2
*R. Beaton b Davis                                                                          6
G. Motie-Kanhai not out                                                           2
Extras (b3)                                                                            3
TOTAL (all out, 50.1 overs)                                                    79
Fall of wickets: 1-1, 2-13, 3-21, 4-49, 5-64, 6-66, 7-66, 8-68, 9-70
Bowling: D. Davis 25.1-12-25-7, Mohamed 11-2-23-2, Hosein 4-4-0-0, Ali 10-2-28-1
Result: T&T won by 73 runs
Points: T&T 12, Guyana 0.3
Umpires: F.Maurice, M. Morton
Around the Web