KANDY, Sri Lanka, (Reuters) – Captain Tillakaratne  Dilshan scored his maiden Twenty20 international century to lead  Sri Lanka to an emphatic 35-run win over Australia at the  Pallakele Stadium yesterday.
Dilshan, opening the batting, struck 12 fours and five sixes  as he raced to 104 not out off 57 balls. He shared an unbeaten  partnership of 104 off 45 balls for the fourth wicket with  Jeevan Mendis (29).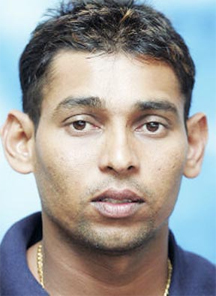 "Jeevan batted brilliantly and took most of the pressure off  me which enabled me to go for my shots," said Dilshan after  taking the man-of-the match award. "When runs were coming off  both ends it was very difficult for the bowling side.
"I started off a bit slowly and then played the big shots  later. It was a good toss to lose.
"Overall, it was a very satisfying performance from the  team. I am happy the way we are playing."
Sri Lanka, who were asked to bat, reached 198 for three and  put a brake on the Australian batting through their spinners to  restrict them to 163 for eight wickets with only David Warner  making any impression with 53 off 31 balls. Off-spinner Dilruwan  Perera, making his debut, took three for 26.
Australian captain Cameron White said: "We were in the game  for 12-14 overs but Dilshan took the game away from us. Full  credit to Sri Lanka and Dilshan.
"I wish I could have that toss back but that's the way it  goes."
It was Sri Lanka's first T20 international win at home in  five matches.
SCOREBOARD
Sri Lanka beat Australia by 35 runs.       
Sri Lanka innings    
M Jayawardene b Lee                                                     11
T Dilshan not out                                                          104
D Chandimal hit wkt b Johnson                                 11
K Sangakkara c White b Watson                                30
J Mendis not out                                                              29
Extras: (lb-7, w-6)                                                          13
Total: (three wickets, 20 overs)                               198   
Fall of wickets: 1-12 2-42 3-94
Did not bat: A Mathews , D Perera, N Kulasekara, D Prasad, R  Herath, S Lakmal.
Bowling: Lee 4-0-38-1 (2-w), O'Keefe 3-0-18-0 (1-w), Johnson  4-0-47-1 (1-w), Hastings 3-0-34-0 (2-w), Smith 2-0-13-0, Watson  4-0-41-1.
Australia innings
S Watson b Kulasekara                                                 10
D Warner c Dilshan b Kulasekara                             53
S Marsh lbw b Perera                                                       4
D Hussey b Perera                                                            6
C White b Perera                                                               7
S Smith st Sangakkara b Herath                              12
B Haddin run out                                                             7
M Johnson not out                                                        22
S O'Keefe b Lakmal                                                       22
J Hastings not out                                                         14
Extras: (lb-1, w-5)                                                           6
Total: (eight wickets, 20 overs)                              163
Fall of wickets: 1-18 2-39 3-49 4-63 5-89 6-103 7-105 8-144
Did not bat: B Lee.
Bowling: Kulasekara 4-0-39-2 (3-w), Lakmal 3-0-23-1 (1-w),  Perera 4-0-26-3 (1-w), Prasad 3-0-37-0, Dilshan 3-0-26-0, Herath  3-0-11-1.
Around the Web