BIRMINGHAM, England, (Reuters) – England captain  Andrew Strauss and India's Mahendra Singh Dhoni played down the  significance of the world rankings for different reasons yesterday ahead of the third test.
India are currently the number one side but England will  leapfrog them and second-placed South Africa if they win the  four-match series by two clear tests, a feat they would achieve  with victory at Edgbaston.
"We're not approaching this test match any differently," Strauss told reporters. "That number one ranking comes as a  consequence of playing good cricket. So all we've got to  concentrate on is playing good cricket.
"Rankings are not at the forefront of our mind at the mind,  what is at the forefront of our mind is starting this test match  well and hoping to get into a position to win it later in the  week."
Dhoni, whose team lost heavily at Lord's and Trent Bridge  and have been hampered by injuries to key players like Zaheer  Khan, Harbhajan Singh and Virender Sehwag, was equally  unconcerned by the rankings.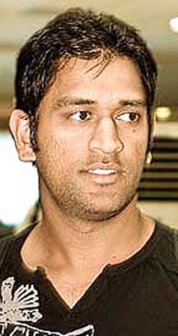 "We don't talk much about ratings," Dhoni said. "I've said  in the last two years, ratings are not what are important for  us.
"What we concentrate on is the kind of cricket we are  playing so we try to break the sessions into smaller sessions  not look five days ahead as to what may be the result.
"What's important for us is how you go about doing stuff in  the first hour. We know the small things that matter and we will  try to stick to that."
ONE CHANGE     
England look set to make one change to the team that won by  319 runs in Nottingham with Ravi Bopara replacing the injured  Jonathan Trott. Bopara's last test was two years ago and he  averages 33.46 in 10 matches.
Chris Tremlett has been released from the squad having  failed to recover from a back injury, so Tim Bresnan should  retain his place for the match starting today.
"I think Ravi being the only change would be a reasonable  assumption to make barring any last minute injuries," Strauss  added. "We're all delighted that Ravi has got a chance again.
"He has been knocking on the door for quite a long time. He  fills the role that has been vacated by Jonathan Trott very well  with his batting and his ability to bowl a few overs. It's great  to see him have the opportunity come into the Test side again."
India's selection is less clearcut. Sehwag has recovered  from shoulder surgery and while he made only eight in the  warm-up match at Northamptonshire, Dhoni said his place was  almost assured. Gautam Gambhir will also return, from a bruised  arm, and open with Sehwag.
Harbhajan is out with a stomach muscle problem and India are  deciding whether to pick a replacement spinner, slow left-armer  Pragyan Ojha or leg-spinner Amit Mishra, or a fourth pace  bowler.
"He (Sehwag) is practising every day, which means he's  available for selection and I can see no good reason why he  shouldn't play," Dhoni said.
"He's a very dynamic player who backs his instinct to play  shots, irrespective of which bowler he's facing. He believes  more in looking at the ball and just giving it the treatment it  deserves.
"We all know an aggressive opener can have a very big impact  on the opposition bowling attack — so he's a very good player  to have in the side."
Around the Web